Posted By RichC on July 24, 2011
It was a hot Saturday to be working on the Toyota Rav4, but I figured it was best to use the extra day just in case there was a complication. Instead of having the insurance company fix our car, we have opted to go the salvage title route and accepted the insurance company's check after the recent hit from behind accident.
After a few days looking for a replacement rear hatch/door by searching salvage yard parts online, I've decided to do a little re-bending on my own. "Back in the day," (as my daughter would say) I was fortunate to have learned a bit about collision and body work and in particular "how" to straighten frames and parts using less than professional tools. In fact, all of my first cars were salvage yard rebuilds and it was profitable enough at the time that I could afford a "nicer" engagement ring – although there are times I wish I would have kept the 1969 Camaro that I sold in order to purchase it.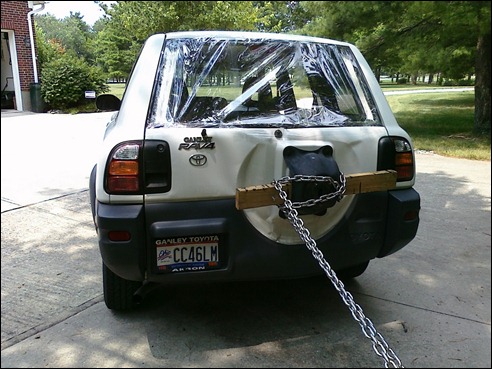 For the Rav4 that meant a bit of "self-bending" utilizing a chain and a tree. I was able to tweak the rear door back to its approximate position enough to utilized the hinges and latch … but not enough to replace the rear glass with real glass – I'll look for some Plexiglas or Polycarbonate to form a new rear window next week and bed the edges with a little 3M Marine Grade 5200 sealer/adhesive. Any other low cost suggestions … or way to convince Brenda we need a VW TDI?