Posted By RichC on August 2, 2011
NEW YORK (CNNMoney) — Economists say the debt ceiling debate has already damaged the U.S. economy, and many worry that a deadlock could send the country hurtling into a double-dip recession.
Although the US Senate voted to pass the debt ceiling legislation and President Obama quickly signed it, the worries on Wall Street harkened too little and too late. There isn't much news suggesting that the economy is rebounding at a pace which shows the kind of growth most expected after a recession.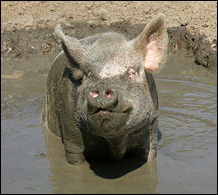 In fact, some economist are even saying that a double dip recession is even more likely now than before.
Investors headed and continue to head for the safety of cash, treasuries and gold … pushing the yellow metal up to nearly $1700/ounce. Financial markets closed down for the day in New York while debate weary representatives in Washington DC headed home for recess … after being told by the "principal" today that when "school" is back in session that they would be focusing on getting Americans back to work. Huh, Mr. President? I thought you told us that all the spending you asked for these last couple of years was suppose to do? Excuse me for questioning your wanting to "double-down" by spending more. How about eliminating some of the heavy handed legislation you passed and actually do something that encourages private investment and businesses to expand in the US?
The Dow Jones Industrial Average was down 265.87 points, or 2.2%, to 11866.62 (creating the longest losing streak since October 2008). The index has lost more than 800 points since July 22nd. Very few investors remaining long in the market have gotten by unscathed … my advice, don't look at your mutual funds or 401K and IRA statements (daily DJIA chart below).
The S&P 500 was down 32.89 points, or 2.6%, to 1254.05 and Nasdaq Composite down  75.37 points, or 2.8%, to 2669.24.