Posted By RichC on October 13, 2011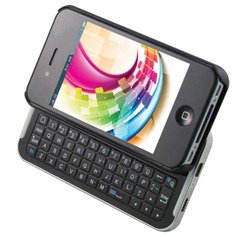 If you were a Sprint users and were tempted to upgrader to a new Apple iPhone4s, but demanded a physical keyboard, would adding on a bluetooth slider be worth it? It would sure makes the slick iPhone a less attractive device to slip into a pocket, but if it worked well might be a nice way to thumb in a longer email or type out messages?
My problem is that I've been so use to the physical keyboards since my first Treo that I'm not sure I can give up the physical and tactical feel. To this point I've resisted switching from my Palm Pre compact slider keyboard to a virtual keyboard phone from the many available. On the other hand, I have been told that eventually even aging techie guys like me could learn to to make the transition. (yet to be seen)
The option: For $50, a Concord Keystone offers their SLIDER bluetooth keyboard would give those of us the kind of bridge that may help move us from the familiarity of thumbing on physical keys to pecking on glass?
Specially designed for iPhone 4S/4

This mini bluetooth keyboard phone case is specially designed for iPhone 4S/4. The keyboard is hidden beneath the phone case and can be slid out when it is in use. The connection is easy. Just power on the keyboard and press the pairing button at the side, switch on the bluetooth in your iPhone, the connecting process will take place. Once the iPhone found the keyboard, it will instruct you to type in a 4-digit PIN in the keyboard. Once you key in the PIN, the keyboard is ready to use. No software installation is necessary. One full charge of the keyboard gives you about 30 uninterrupted working hours.

Comes in a sliding phone case for iPhone 4S/4