Posted By RichC on October 5, 2011
I wasn't alone in paying attention to Tuesday's much publicized Apple event which showcased a new an updated iPhone. Perhaps the enthusiastic hype isn't Apple's fault as "we" have reason to anxiously wait, considering the the cool new stuff that comes out of Cupertino California.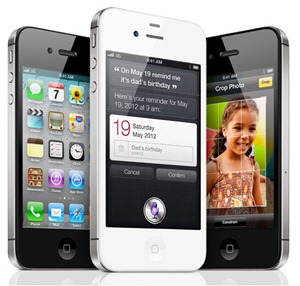 Unfortunately the "updated" hardware and new software integration wasn't as earthshaking as most expected.
Besides the missing "new" hardware … I think the Apple faithful also missed Steve Jobs, who stepped down earlier this year due to his health issues. That said, Apple Inc.'s new chief executive Tim Cook emulated the Jobs presentation style, even if the product announcements didn't have the sizzle as in the past. Apple did introduce the highly anticipated fifth-generation iPhone smartphone,  called the 4S (not the iPhone 5 many had been suggesting), which features a faster processor and a better camera, as well as voice-command services. The new updates will keep them close or ahead (depending on your point of view) of phones from a variety of Asian manufacturers which run Google's Android OS. The iPhone's internal components and new software capabilities should make existing users "eventually" upgrade, but the physical screen size and same footprint may not trigger a visual response for newbies. Still, releasing the 4S in October (pre-holiday) and adding a new carrier (Sprint) should boost sales. As for new iPhone features such as a 8 megapixel camera, 1080p resolution video and advanced touchscreen controls, most are  already available on competitors' phones. I think most Apple investors and customers were left wanting more. Missing from the wish list were 4G high speed data and a bigger screen in a thinner package. (I personally want a phone with a physical keyboard that is a portrait slider – Pre-like – but I know that's not coming from Apple … sort of like wishing for a two button mouse and trackpad)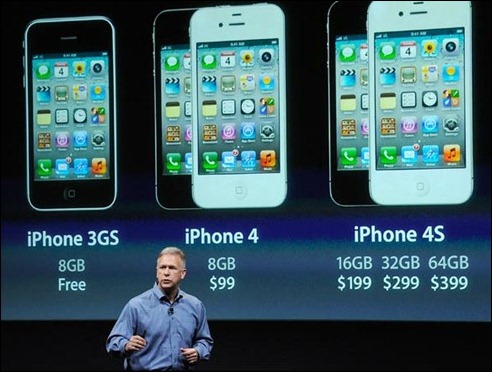 A couple wait and see feature including the voice control will require time to see if they play out. Previous attempts in talking to computers haven't gone over all that well. The new software features, such as syncing media among devices over the Internet, are intriguing, but that's not all that easy to demonstrate onstage.
The letdown was seen in Apple's shares, which fell 5% early Tuesday but lifted as stocks rebound toward the end of the day. AAPL closed at $372.50 and was down another $1.30 as I post this over lunch on Wednesday.
I'm not sure an iPhone is in my future just yet, even though I was somewhat excited to hear Sprint had struck a deal that put the iPhone in their stable of phones … then again, the cost to Sprint seems pretty high (LINK).