Posted By RichC on October 6, 2011
I've been thinking about the passing of Steve Jobs (February 24, 1955 – October 5, 2011) and realized that there wasn't enough time to include all I wanted over a lunch hour. First, his innovative vision, business savvy and keen sense of "what customers wanted" have earned him a place in my list of the top ten most influential people of my lifetime. His passing has me taking an inventory of my Apple life and while walking through the house this morning and I realized just how much impact his brand has had on me and my wallet.  Just looking at the hardware I still own, I lost count of how many tech items our household has purchased and can understand why Apple and Steve Jobs have been so successful — I may have singlehandedly kept them afloat during the lean years. I wish that I would have bought and held the stock instead of the hardware … AAPL has risen 4800% according to CNBC.
Although I didn't adopt Apple as my personal computer until after using my first DOS PC … a Compaq, I did purchase my first Macintosh, a Mac SE in 1987. I was hooked on first touch of the mouse (unique to Apple at the time) and have now used Apple computers non-stop for 24 years. Looking back at the photos, I chuckle at the aging system disks and piles of proprietary Apple cables and accessories in box after box stored in my basement and closets.
One interesting story is that I traded my original SE for an 18' Thistle sailboat after upgrading to my favorite computer of all times, the Macintosh II Ci. For some reason I have been unable to part with this generic looking Mac II box, and I still keep in my bushel basket of Apple computers. (BTW,the sailboat was in-turn, traded for the MGB that I am currently working on!) After the Ci and lousy LCII and 7100, the G3s and G4 came in as great computers … but I could have done without a few of the others.
One of those early Apple Macintosh "guys" was Guy Kawasaki, and during a Facebook marketing web seminar last night changed the conversation and reflected on Steve Jobs and what made Apple so unique (audio below).
| | |
| --- | --- |
| | Guy Kawasaki on Steve Jobs and Apple (mp3) | 10/5/2011 |
Although I'm not quite the Apple devote that I once was (when buying Apple made you a rebel), I still appreciate — and covet — those new iMacs, iPad and iPhones. My current daily "home" desktop computer is the diminutive Mac Mini running both Mac and Windows under bootcamp. It is a great little Intel chipped computer and I would hesitate buying another for home or boat use.
For music, it is hard to be my old "clip to the ball cap" iPod Shuffle, but I'm overdue for something new … perhaps an iPad or iPhone?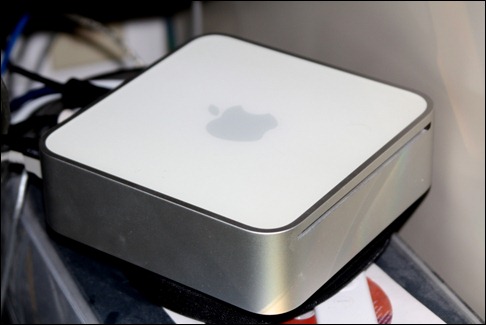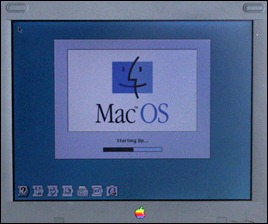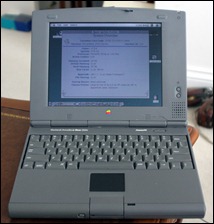 Above – current mac mini and Shuffle iPod and my old Mac Duo notebook computer
I'll finish this post highlighting Steve Jobs own words on life and death while speaking at Stanford in June of 2005:
When I was 17, I read a quote that went something like: "If you live each day as if it was your last, someday you'll most certainly be right." It made an impression on me, and since then, for the past 33 years, I have looked in the mirror every morning and asked myself: "If today were the last day of my life, would I want to do what I am about to do today?" And whenever the answer has been "No" for too many days in a row, I know I need to change something.

Remembering that I'll be dead soon is the most important tool I've ever encountered to help me make the big choices in life. Because almost everything — all external expectations, all pride, all fear of embarrassment or failure — these things just fall away in the face of death, leaving only what is truly important. Remembering that you are going to die is the best way I know to avoid the trap of thinking you have something to lose. You are already naked. There is no reason not to follow your heart.

About a year ago, I was diagnosed with cancer. I had a scan at 7:30 in the morning, and it clearly showed a tumor on my pancreas. I didn't even know what a pancreas was. The doctors told me this was almost certainly a type of cancer that is incurable, and that I should expect to live no longer than three to six months. My doctor advised me to go home and get my affairs in order, which is doctors' code for "prepare to die." It means to try to tell your kids everything you thought you'd have the next 10 years to tell them in just a few months. It means to make sure everything is buttoned up so that it will be as easy as possible for your family. It means to say your goodbyes.

I lived with that diagnosis all day. Later that evening I had a biopsy, where they stuck an endoscope down my throat, through my stomach and into my intestines, put a needle into my pancreas and got a few cells from the tumor. I was sedated, but my wife, who was there, told me that when they viewed the cells under a microscope, the doctors started crying because it turned out to be a very rare form of pancreatic cancer that is curable with surgery. I had the surgery, and I'm fine now.

This was the closest I've been to facing death, and I hope it's the closest I get for a few more decades. Having lived through it, I can now say this to you with a bit more certainty than when death was a useful but a purely intellectual concept:

No one wants to die. Even people who want to go to heaven don't want to die to get there. And yet death is the destination we all share. No one has ever escaped it. And that is as it should be, because death is very likely the single best invention of life. It is life's change agent. It clears out the old to make way for the new. Right now the new is you, but someday not too long from now, you will gradually become the old and be cleared away. Sorry to be so dramatic, but it is quite true.

Your time is limited, so don't waste it living someone else's life. Don't be trapped by dogma — which is living with the results of other people's thinking. Don't let the noise of others' opinions drown out your own inner voice. And most importantly, have the courage to follow your heart and intuition. They somehow already know what you truly want to become. Everything else is secondary.

When I was young, there was an amazing publication called The Whole Earth Catalog, which was one of the bibles of my generation. It was created by a fellow named Stewart Brand not far from here in Menlo Park, and he brought it to life with his poetic touch. This was in the late 1960s, before personal computers and desktop publishing, so it was all made with typewriters, scissors and Polaroid cameras. It was sort of like Google(GOOG_) in paperback form, 35 years before Google came along: It was idealistic, and overflowing with neat tools and great notions.

Stewart and his team put out several issues of The Whole Earth Catalog, and then when it had run its course, they put out a final issue. It was the mid-1970s, and I was your age. On the back cover of their final issue was a photograph of an early-morning country road, the kind you might find yourself hitch-hiking on if you were so adventurous. Beneath it were the words: "Stay hungry. Stay foolish." It was their farewell message as they signed off. Stay hungry. Stay foolish. And I have always wished that for myself. And, now, as you graduate to begin anew, I wish that for you.

Stay hungry. Stay foolish.
My condolences to Steve's wife Laurene Powell of 20 years and their four children. Mr. Jobs will be missed by millions.
_