Posted By RichC on January 9, 2012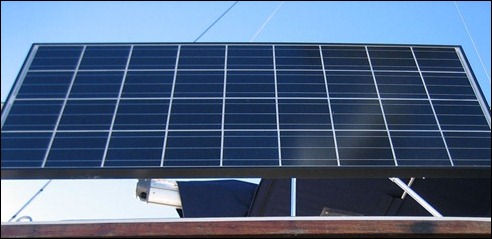 Although I'm not at all disappointed with my current single 135W Kyocera solar panel, I don't want to be wasting amps and not returning them to my battery bank. I was reading an article debating the different controllers regulating charging and began doing some of my own research since I'm thinking about adding an additional panel (2 x 135w).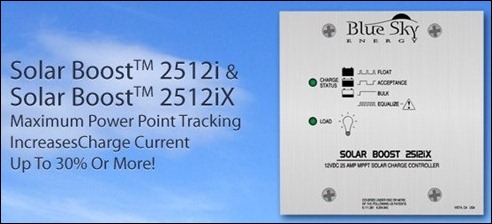 If indeed I could increase efficiency and minimize loss … perhaps a 3 stage charge control like the one from Blue Sky Energy is a good idea? Thoughts from those already heavily into solar?
12V / 25 amp low cost MPPT charge controller

Patented Maximum Power Point Tracking technology allows Solar Boost 2512i and Solar Boost 2512iX to increase charge current up to 30% or more compared to conventional charge controllers. Don't waste your money by throwing PV power away! Get the power you paid for with a Solar Boost charge controller.

The low cost Solar Boost 2512i provides an advanced fully automatic 3-stage charge control system to ensure the battery is properly and fully charged, resulting in enhanced battery performance with less maintenance. A partial IPN™ network interface is also included to allow use of the IPN-Remote or IPN-ProRemote displays.

Additional features provided in the Solar Boost 2512iX include automatic or manual equalization, battery temperature sensor input, full IPN network compatibility, and an auxiliary output. The user configurable auxiliary output can serve as either a 25 amp load controller, or as a 2 amp auxiliary battery charger. The load control feature can be used to limit excessive battery discharge in
unattended remote systems, where as the auxiliary battery charge feature is ideal for charging a separate battery such as the engine battery in an RV.

Blue Sky Energy's advanced Integrated Power Net™, or IPN Network, allows up to 8 IPN capable charge controllers to communicate with each other and operate as a single machine rather than separate charge controllers. The IPN network also allows networked controllers to share an optional battery temperature sensor and remote display. The IPN network does not require a display or other special hardware to operate.