Posted By RichC on January 17, 2012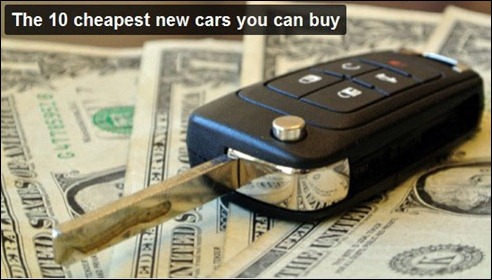 I saw the key photo above as a tease in a recent article highlighting the 10 cheapest new cars you can buy and was disappointed as other VW owners/shoppers might be – yes the key is a VW key and fob, but the list (below) doesn't contain a Volkswagen.
 

The 10 cheapest new cars you can buy
1. Nissan Versa 1.6 S sedan $11,770
If all you're after is four wheels and comfortable room for four, the new-for-2012 Nissan Versa has you covered. To be frank, it's not a very appealing cheap car, but it does hit all the right buttons for buyers who simply want a brand new car with a surprisingly roomy interior. That bargain-basement price even includes air conditioning, a trip computer and a six-way-adjustable driver's seat, but not a radio.

2. Smart Fortwo Pure $13,240
For urban dwellers, space is sometimes as much of a hurdle as anything. The Smart Fortwo comes to the rescue, packing virtually no luxuries but a bargain basement price and an ultra-compact package. You won't get air conditioning or even power steering, although a leather-covered steering wheel is curiously standard.

3. Hyundai Accent GLS sedan $13,320
Redesigned for 2012, the Accent is a pleasingly grown-up car with plenty of power and style. Under its streamlined hood lies a 138-horsepower four-cylinder and six-speed manual transmission combination that nets 40 mpg on the highway. But to get that kind of power at this kind of price, you'll have to forgo air conditioning, which comes in a pricey package that also includes power windows and a stereo system.

4. Ford Fiesta S sedan $13,995
Ford promised upscale features when it first introduced the Fiesta to our market for 2011 and the Blue Oval has largely delivered. Although a Fiesta can be optioned up to near luxury-car specifications, it's at the bottom end of the market where the value equation is at its strongest. For under $14,000, it's the cheapest car on our list with both air conditioning and an AM/FM radio with an auxiliary input, although its passenger seat only offers adjustment in two directions.

5. Kia Rio LX sedan $14,150
Banish your preconceived notions: Rio offers plenty of style and no shortage of features for the price by essentially building on the Fiesta with more power (the same 138 horsepower as its kissing-cousin Hyundai Accent) and more features (like height adjustment for the driver's seat). In addition, it comes with a well-publicized 100,000 mile, 10-year powertrain warranty.

6. Kia Soul $14,650
With its otherworldly looks and roomy interior, Soul is certainly a standout in this class. It was given a new 1.6-liter four-cylinder for 2012 (the same engine in the Rio and Accent), but its high-value mission in life remains unchanged. Soul is the cheapest car on our list to come with standard Bluetooth connectivity and it also includes power windows and locks and air conditioning.

7. Chevrolet Sonic 1LS sedan $14,660
With its perennially miserable Aveo now officially put out to pasture, Chevrolet finally has a genuinely competitive subcompact. Not only is the Sonic a looker, it also comes standard with General Motors' exclusive OnStar system, a huge bonus for drivers young and old alike. In addition, the base price point also includes 10 airbags, air conditioning, power door locks with keyless entry and alloy wheels.

8. Toyota Yaris L 3-door $14,875
True, the Toyota badge undeniably adds a little to the Yaris' bottom line. How else can we explain a relatively modest spec sheet with a 1.5-liter, 106-horsepower engine and two fewer side doors than anything else? Still, Pam Beasley's runabout boasts an upmarket, high-quality feel evidenced everywhere from the solid "thunk" of its doors to the clicking sound made by its (few) power accessories. In short, it feels like a Toyota.

9. Nissan Versa 1.8 S hatchback $15,260
Versa shoppers might be a bit confused to learn that the five-door hatchback model is a carry-over from last year, which helps explain just why both are on our list. With its more powerful engine and comparatively upmarket interior, the Versa hatchback definitely feels a grade above the sedan, although it offers far less interior room and its overall value is a bit weak compared to the rest of this list.

10. Mazda Mazda2 Sport $15,325
Mazda 2 isn't a winner on the spec sheet, where its 100 horsepower engine seems to let it down, but it comes with most of the features we'd expect at this price and it boasts unmatched budget car driving dynamics. Simply put, Mazda2 is fun to drive thanks to its tight steering, taut suspension and ultra light weight. It's the closest thing to a go-kart you'll find on this list.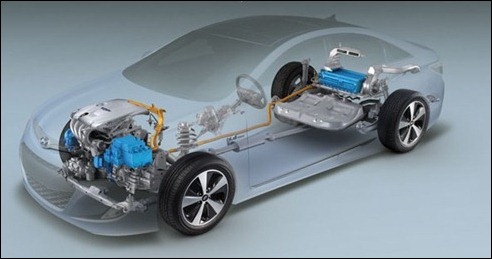 The 2012 Hyundai Sonata Hybrid
As a follow up automotive related comment, I was impressed with the quality of the Hyundai Sonata I rented last month and doubly impress when they announced in Detroit that their hybrid would have a "lifetime warranty" on the Lithium Polymer Gel battery pack. This hybrid vehicle might be an excellent consideration for those wanting a comfortable, fuel efficient sedan – this 40mpg car could be a replacement for my wife's Rav4?