Posted By RichC on February 20, 2012
Who doesn't spend their time on hold doodling whatever is on their mind?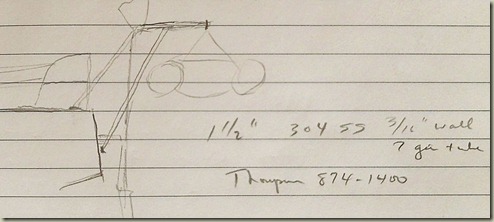 Today I found myself contemplating Mark's comments this weekend regarding forgoing the Kingston davits I posted on the other day and considering a custom  for Encore and our existing Zodiac … as well as the eventual AB inflatable. I started to think (dangerous), "this might be do-able." I'm not sure it is "self do-able," but a contact over at Thompson is pulling me a couple scraps of 1-1/2" –304 Stainless Steel tubing so I can test my old TIG welding skills … although I've never welded stainless steel. I now have an excuse to head down to the boat in order to pull a few measurements  and see if I can work up a real drawing. Yikes … too many projects, not enough time.