Posted By RichC on April 15, 2012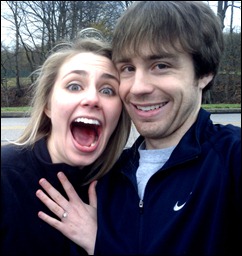 Well maybe the above math may not be as simple as it looks … but it computes in the case of Katelyn and Drew. Ready or not, it is time for this dad to let go of his daughter. Drew Oostra has asked my daughter Katelyn to marry him and she replied "yes" … although I might have to edit the answer since I'm unsure "yes" was her exact word?


The inside story: My future son-in-law secretly asked me to breakfast a couple weeks ago in Columbus. At that time he informed me of his intention to propose to Katelyn and asked for my permission. Humbled to have been so respectfully asked, my answer was of course in the affirmative (with conditions).
Katelyn has known Drew since 2004 when the two started their undergraduate schooling together at Kent/NEOUCOM; they continued to be close friends and dated throughout medical school and their residencies. My daughter selected Nationwide Children's Hospital in Columbus partially (probably mostly) because Drew was at OSU Medical Center and they spend most of what little free time residents have together (although both do other things too). In thinking about Drew, I have never met a young man who is as kind, polite, gentlemanly, has the heart of a servant and loves Katelyn. As a bonus, he is also afflicted with a blindness towards Katelyn's foibles – how perfect is that? [that's a joke, dear daughter, you are of course perfect in every way!]  Whatever the Oostra's parenting secret, it should be patterned by all of us; their son is a wonderful man – and if I were 25 or so years younger, I would have wanted Drew as a best friend.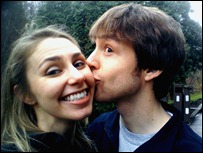 After meeting with Drew for breakfast, I tried to keep my lips sealed about his intent. I unfortunately failed … and shared our covert breakfast meeting with my wife and son (partially hoping it might help him in the future) … and of course tweeted it to the world (no, no … just kidding). Anyway I'm glad to see the proposal sooner rather than later as it was challenging to keep this from my "inquiring daughter" … she is a "nosy" one (even Drew knows this, the reason he suggested a morning breakfast meeting rather than an evening dinner).
From what I've gathered, Saturday's proposal was disguised with a going away get-together for a close friend in the Akron area. They drove up and detoured for a picnic at a park with a small lake … the place where they had their first official date years ago. The thought was very much appreciated by Katelyn, as was the ring. According to my wife, it was a ring that Katelyn had pointed out in a magazine at one point – hmm,  to get the exact ring is pretty special and from the photo (below) it certainly is. Congratulations, with love to the both of you.