Posted By RichC on June 26, 2012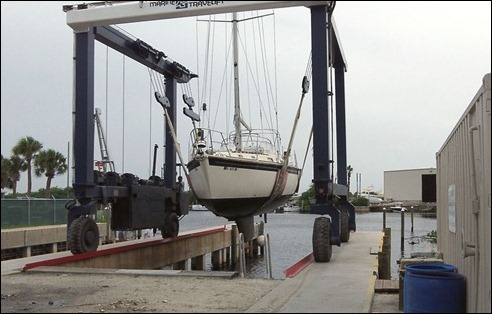 Let's start with the good news … Encore is safely out of the water, block and safely in the boatyard. Her bottom ablative bottom paint sort of did its job, but was completely used up. A strong power washing took care of the slime and some of the growth and left a few barnacles glued to the hull and prop. Unfortunately the cleaning brought to light blistering … something all too common to aging fiberglass hulls (West System PDF). In Encore's case, there are many … MANY … all small but too plentiful for the normal DIY West System patching technique. This brings me to my next dilemma –what do I do next?
The right way to go would be to hire a soda blaster and strip the below surface area so as to open all of the blisters so they can dry out (approx $2500). After this "heavy striping of the bottom," a filler coat can be applied before laying up several barrier coats (four coats according to Joe Valenza at Whiticar Boat Works) … then apply both a hard antifouling bottom paint of one color and an second ablative antifouling coat of another color. Of course even all of this labor intensive work would not be enough since the iron keel needs to be treated differently as it is showing signs of rust (something I knew about). All I know is that the cash register will be ringing if the repair is done the right way.
There is always the "wrong way" and the questionable in between way to repair the bottom. I could move the boat to the do-it-yourself area (a charged of course) and just slap new ablative antifouling paint over everything and wait another year. Or I could sand and grind the bottom down myself, attempt to patch multiple 100s of small blisters and repaint the hull knowing this will not solve the problem long term but give me several seasons.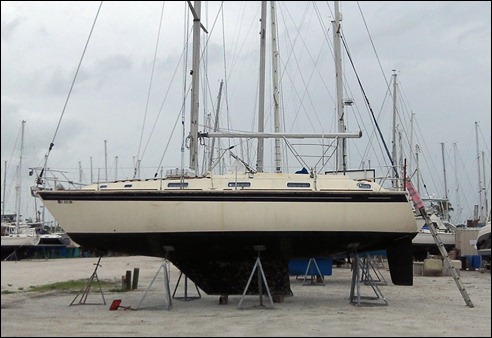 Hmm, something to sleep on and delicately talk with Brenda about in a year we are planning a wedding ($$$) … gulp!
Well at least my task for the weekend was accomplished. Sail and canvas stripped and Encore out of the water for the next few months.