Posted By RichC on June 27, 2012
A change in schedules had me flying into CVG (Cincinnati-Northern Kentucky Airport) on Tuesday and stuck without a way home. I didn't park my car this trip and expected that "someone" would be available to pick me up and drive me home – NOPE!
Anyway this gave me an excuse to look for another way home and I decided to try the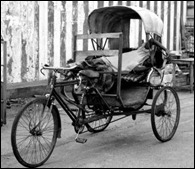 TristateAirportTransportation.com taxi service. A quick call to 513-546-3608 put me in touch with someone who efficiently scheduled a pickup upon my flight arrival … I had my doubts. Sure enough, like clockwork a pleasant driver in a Chrysler 300 (not the canned rickshaw photo) was waiting at the passenger pickup as soon as I called. The drive home through downtown traffic and construction was uneventful and I was dropped of to my door for a flat $56 plus tip. Personally I thought this was a little low since the last few taxi rides were about $20 for trips far shorter — less than 15 minutes and about 10 miles. Considering the amount of gas and time for someone to drive down to the airport and back (or airport on or offsite parking charges), I may opt for this service again.