Posted By RichC on October 7, 2012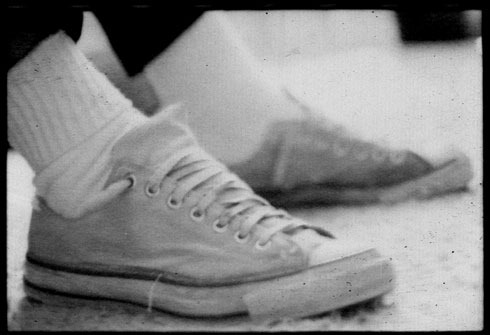 Vintage Converse All-Stars from 1977 – note the untied shoelace before it became the style!
I was a "geek" before there were "geeks" … if being a  photographer for my hometown newspaper and for my high school yearbook counts? Friday nights were spent shooting games and then zipping to the darkroom to "soup" the film before rejoining my buddies for pizza (prints would be made after the film dried). Fast forward to what was on my mind this weekend.
It was my 35th Sidney High School reunion (class of 1977), but as usual I didn't put it on the calendar or make reservations. Still, after noticing a few Facebook comments, I reminisced on my own by glancing through a stack of old negatives that are stuck together in the bottom of a box. Nothing stood out, but then my ol' photog eyes may have lost the knack of mentally flipping blacks for whites???  The trip down memory lane did get me thinking about how to scan in black and white film negatives into digital copies. (click for larger image, but be warned … this image is larger than usual) 


I suspect there is a better way (let me know), but I tested converting some of my old push processed Kodak Tri-X negatives on my flatbed scanner. Although the quality if far from what I would like to see, I think it can be done.
Dust the negatives then place face down on the scanner. Put a white backer sheet or two behind the negatives.
Scan at the highest resolution grayscale setting your scanner is capable of and let the auto feature make the adjustment (I've tried tweaking with poor results).
Open the file in Photoshop, Gimp or something similar and look for the "invert" menu option. For Photoshop look under Image > Adjustments > Invert.
Adjust the contrast and brightness and possibly tweak sharpness.
Save as a .jpg.