Posted By RichC on October 8, 2012

Last week I started testing the new wireless Internet being offered by FreedomPop.com. The service is interesting because light data users can connect and use the Internet basically for "free." Higher data use plans are available for those needing more, but requires paying for it, helping to build out the user base or completing offers on the marketing pages. I hoping to continue using it free of monthly charges, but increasing my data cap by "recommend a few people." (hint, hint – click here and send me your email address and ask me to recommend you for the beta). I'm thinking the "free" service might make an acceptable replacement for my old Palm Pre tethered connection now that it is not easily do-able on my iPhone 5.
With this "free" claim comes a few minor caveats, but if it works where I currently travel and need it, it will prove useful.
You must purchase a refundable 4G modem (a couple options)
You are limited to 500MB/month
You must be in their 4G covered area (basically WiMax/Sprint for now).

So far so good as I opted for the Photon 4G "tiny" 8 device modem (USB modem and Apple device "sleeve" are also available — the iPod Touch sleeve might be great for teens.). It is claimed to offer 6 hrs of connect time, but will also charge and run with a micro USB plugin. The shipping was very quick and it came packaged as if it were manufactured under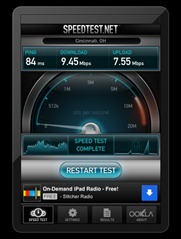 Apple supervision – ie. very nice. The build quality is solid and did I mention "tiny" above? It is a 2-1/2" square and about 3/8" thick. I attached a little patch of Velcro to mine so I could stick it to the back of my computer, iPad or on my car dash … where I'm thinking it may get used most unless hot sun bothers it???
Set-up was a cinch and I was running in under 5 minutes, but after running my first speed test when still charging found it to be painfully slow – was the inside floor location, I think. Once I move it to the window sill, I was at speeds that match my Time Warner "non-turbo" basic Internet package. As I traveled in the covered area, speeds varied from just okay to impressively fast for Wimax both up and down on my iPad. (right). The connect remain pretty good while driving around Cincinnati and enable my Wazer mapping app to update without a problem. Unfortunately the footprint is not going to give me coverage in most of Ohio or at the boat (according to the map). It would really be nice to have a 4G data connection in Florida.