Posted By RichC on January 27, 2013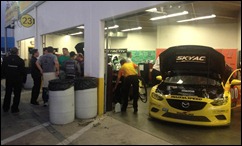 While we wait for the production version of the Mazda 6 Skyactiv diesel sedan to arrive at dealers in the U.S. later this year, Mazda is busy giving 3 of their diesels a workout at the #Rolex24 hours of Daytona race this weekend. Unfortunately they were not overly prepared to race and found all three cars unable to run at full power. A few hours into the running, they headed for the garage due to production quality failed parts. Still it was interesting to see them giving a 4 cylinder diesel a shot at running hard for 24 hours. "It's actually a miracle we are even here with the three cars," says Doonan. "Of the three, one didn't even exist a week ago. We've had about five test days. Double that would've been nice."  Article
When three Mazda 6 sedans roll onto the starting grid for the Rolex 24 endurance race on Saturday, they'll be packing a technology the company says has never before competed at the Daytona International Speedway: diesel engines.

Mazda is no stranger to the annual 24-hour event, the traditional kickoff for the sports-car racing season in the United States, having won its class there 23 times. But its debut with diesel-powered sedans will come as a surprise to many of the automaker's fans, who are used to seeing RX-7 and RX-8 sports cars, with their earsplitting rotary engines, take the checkered flag.

The new racing program, supported by Mazda engineers in Japan and North America, aims to publicize a 2.2-liter turbodiesel engine that is one element of the company's Skyactiv strategy to improve efficiency. The plan lifts a page out of the playbook that Audi has used so successfully at the 24 Hours of Le Mans: using racing to demonstrate the engine's mettle and to increase awareness of diesel's benefits.

"We think diesel, with its great low-end torque, durability, performance and fuel economy, fits the Mazda brand's enthusiast reputation — and we hope the racing program will demonstrate that," said Jim O'Sullivan, chief executive of Mazda North America.