Posted By RichC on August 18, 2010
On Sunday we arrived at NYC and boarded the NCL Dawn for Bermuda.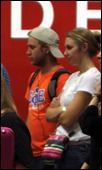 Sprint 3G bandwidth is nearly non-existent with MyTether on the Palm Pre at the docks.
  🙁
On the other hand, not much to say about our Delta flight from Cincinnati to NYC and traffic heavy but quick transfer through the city. Our driver was friendly for a New Yorker and delivered us from baggage claim to the door … I barely had to lift a suitcase – thankfully … considering what was packed. One would have thought we were taking a 3 month sabbatical!
We settled into our rooms, had the mandatory "boat drill" (no life vests required — odd) and cast lines from the pier at 4PM sharp. The weather was overcast but the drizzle held off as we headed in view of the Empire State Building, Manhattan and the financial district, Ground-zero and the Statue of Liberty. Within an hour we were unloading our NY Harbor pilot and steaming toward Bermuda. Time to eat!
Adding slideshow from Picasa when we return – limited Internet.