Posted By RichC on September 30, 2013

Bummer … I missed bidding on this old truck [kidding] … and it sold for ONLY a paltry $142,000.
Collectors came from all over the WORLD to bid on several of the vehicles at the VanDerBrink auction of the closed Lambrecht Chevrolet dealership inventory (they closed in 1996). According to the owner Ray Lambrecht, it was his policy not to sell trade-ins or the previous year models when new cars came out. Most of the inventory was kept in a field in Pierce, Nebraska, but a few were kept caked with original dust in a closed indoor showroom.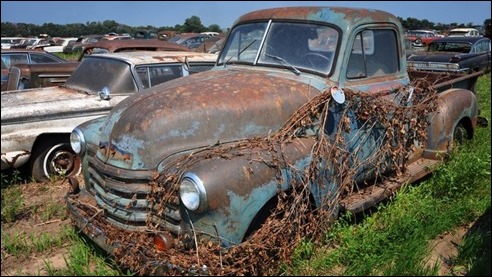 Here are the four vehicles that fetched the highest prices Saturday:

1958 Chevrolet Cameo pickup truck with 1.3 miles: $140,000
1963 Chevrolet Impala with 11 miles: $97,500
1978 Corvette Indy pace car with 4 miles: $80,000
1958 Chevrolet Apache 31 Series Pickup (5 miles): $80,000

Almost all of those vehicles come with their original paperwork and a new Nebraska title and bill of sale. The Cameo pickup's transmission is a "three on the tree" …