Posted By RichC on February 16, 2014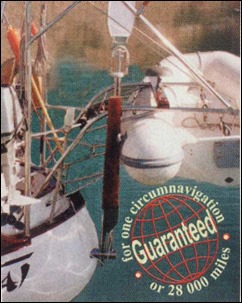 One of the longer term projects that I continue to ponder and seek opinions on is how to handle the Zodiac while keeping one of Encore's expensive options, the Cape Horn Self-Steering gear. It has been a quandary for a while now and I've gone back and forth.
A recent ad in Cruising World classified section has me once again thinking that a davit system and gear might still be do-able. My thoughts are that during blue water passages when the Cape Horn gear would be most useful, that the davits would be folded or not being used with an inflatable or dinghy hanging off the stern, therefore freeing the gear to steer the boat as intended. For the other 95% of the time, the gear could be stowed and davits used to keep the inflatable accessible and secure.