Posted By RichC on March 18, 2014

In wrapping up the "work trip" (cough, cough) down to Florida … I figured the trip would not be complete without at least a walk on the beach. Sunday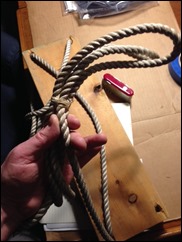 afternoon sunshine made a good excuse to see how the sand felt on my feet – nice (panorama with the iPhone 5 above – click for larger … I'm still impressed at what a cellphone camera can do nowadays).
One of best parts about being at the boat is being able to spend a little time with my friends Mark and Dar. We enjoyed lunch together and time just catching up sitting in the cockpit. Dar's eyesight after her stroke is improving, but still a long way from back to normal. It has improved enough that she even spotted a wasp building a nest in our bimini … something I missed when opening up and cleaning the decks. The had a nice bosun's chair (used for going up the mast) and gave it to me so I could retire my 1982 homemade 2 x 6 model I used on Brenich when I was young and stupid (photo right).


On my final day I drove down to Delray Beach in order to show my mother-in-laws condo to prospective renters for next winter. It doesn't look as if she is going to be able to stay alone or wants too, so perhaps offsetting the maintenance by renting January – March is a good thing. We all are getting older and change is inevitable. So glad that Fran and Fred had 20 years to enjoy their places together.