Posted By RichC on September 12, 2014
While waiting on the discount cellphone carrier Ting (my daughter's referral) to welcome my Sprint-based iPhone 5s, I'm

also weighing Sprint's new promos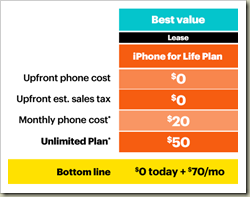 (iPhone for life, etc). Since Ting is only approved as a month-to-month reseller for non-current iPhone models, switching to them requires waiting a few more days or weeks until my second-hand "s" model is approved for the switch (Brenda's iPhone5 is already ok). The current Sprint announcements are suppose to keep them competitive with not only the cheaper resellers (like Ting), but the offerings coming from the big boys. I've heard that Verizon will be giving away the iPhone6 with a trade-in and 2-year contract and no doubt AT&T will be offering something within a few days too (CNN plans/prices compared article). Walmart has already announced that they will be selling the iPhone 6 and 6 plus for $20 less than Apple – $179 with a contract.

As a gadget lover, I'd like the new iPhone 6 or 6 plus … and probably would mind the AppleWatch either, but let's be real, there are other places to spend money. Frankly I'd like to move away from the monthly bills as I begin to think about how to manage cash flow considering in a decade or so I need to be thinking fixed income and retirement (gulp). It's never too early to figure out what technology is really worth paying for in monthly bill.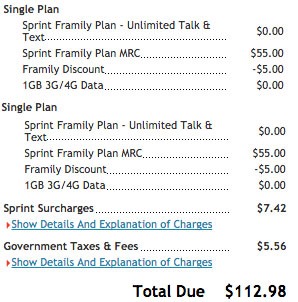 Cellphones, Internet access, cable and excessive utilities are all areas I'd like to cut. For years I've had multiple lines on our family wireless plan (kids, parents, etc) … and in this past year, we are finally down to just two of us on a cellphone plan. That's the good news … but the bad news is that we're still spending $113/mo for our two phones on the Sprint Framily Plan. I know we're better than some but far worse than others … and both have out of contract phones that we like.
Enter our plan to switch to Ting … but only hearing positive reports from my daughter as to where here monthly bill really ended up and if she noticed any difference in service from our Sprint plan. She made the change in August after porting her phone from our plan and taking advantage of Ting's offer to help with the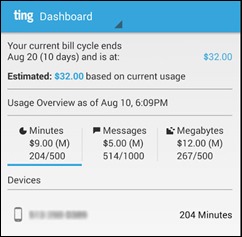 Early Termination Fee (ETF). So far she has been very pleased and her bill (under $40/mo) and sent me a "dashboard" screenshot (image right). The usage may be a little higher for me, although I have so many options for making VoIP outbound calls on my phone that minutes should not be an issue so as long as I'm connected to WiFi. Data use might be an issue, but again most of the time that we are doing anything bandwidth intensive it would be on WiFi. In fact a quick look at last months "Usage Summary" indicates that I was only at 700MB and Brenda about 100 … suggesting we can remain under the 1GB tier (below). As for text messages, our totals were under 500. After plugging in my numbers, the Ting bill should be nearly half that of Sprint – $54 plus taxes and surcharges (est $7). That's over $600 saved each year.