Posted By RichC on May 4, 2015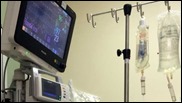 Besides the "lighter" personal oriented items I've been posting on my blog lately, I wanted to archive a few details about my dad struggling with getting older and being back in the hospital.
This past Sunday the nurse at Lane Park where dad is now living told us dad had a high fever and was unresponsive; they sent him to the hospital. My brother and I headed up to Sidney and for the first several hours in the emergency room dad was barely conscious and very confused. The initial thought is that he was dehydration from the diarrhea and had an infection … likely urinary track. After IV fluid and 3 different antibiotics, his temperature came down and he was moved to an "active care" room. The tests indicated a very high white cell count and the doctor ordered a chest X-ray to rule out pneumonia. The 48-hour blood culture should give additional detail … but the immediate worry is behind us.
This Monday morning has him feeling a bit better but still confused. He ate some breakfast and was able to talk a bit with me on the phone. He is still too weak to stand or go to the bathroom so I suspect he'll stay in the hospital least a couple days.
It's no fun getting old … but it beats NOT getting old. At some point we need to be ready … as the days on this earth are short compared to eternity.
Psalm 23:1-6 (KJV)  "The Lord is my shepherd; I shall not want.  He maketh me to lie down in green pastures: he leadeth me beside the still waters.  He restoreth my soul: he leadeth me in the paths of righteousness for his name's sake.  Yea, though I walk through the valley of the shadow of death, I will fear no evil: for thou art with me; thy rod and thy staff they comfort me.  Thou preparest a table before me in the presence of mine enemies: thou anointest my head with oil; my cup runneth over.  Surely goodness and mercy shall follow me all the days of my life: and I will dwell in the house of the Lord for ever."