Posted By RichC on July 4, 2015
Once in a while when commenting online about an item that I use, someone will ask me if I tried or would like to try their product. If the cost is reasonable, or no-charge, I'm usually happy to give it a try.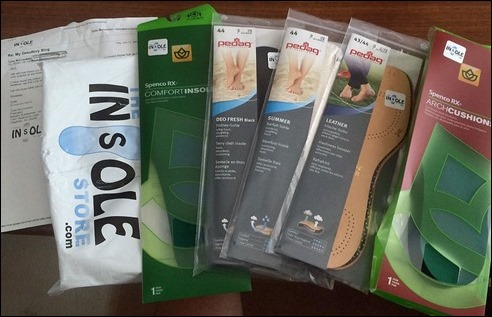 A company called TheInsoleStore.com after reading one of my posts about Sperry Topsider boat and insoles asked if I would like to try out a few of their offerings. They sent me several pair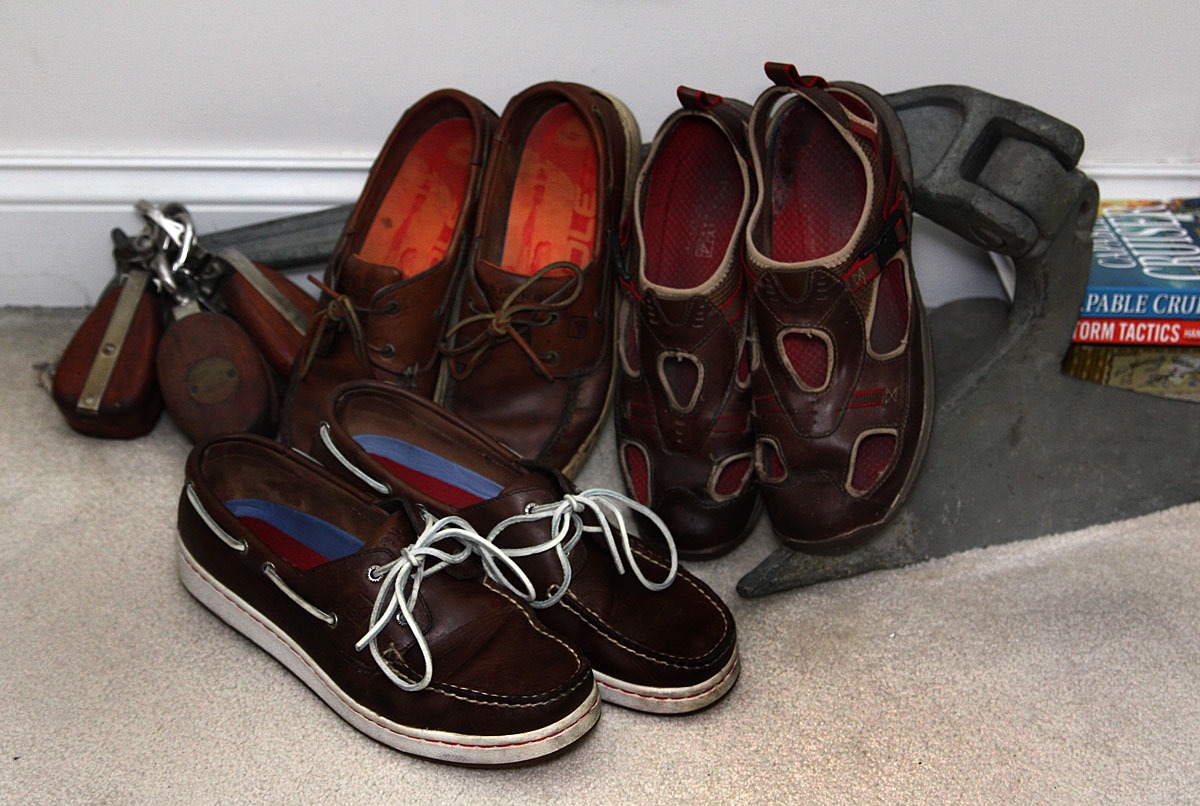 and I will gladly give them a try.
Sperry Topsiders, and their generic copycats, are my favorite shoes and I've worn them for 40 years. I've used them both for "dockside" or "everyday" wear as well as on the boat "sailing." All brands of these leather shoes have the same problem – after wearing them barefoot and getting them wet, they stink  … as my 2012 post lamented.
Enter my search for a way to either prevent them from smelling — either treat them with something or buy new shoes. Since my shoes will usually smell before I wear them out, I decided to try a different solution: insoles.
Insoles Testing:
Felt/wool insoles — To save a few dollars, the inexpensive felt insoles can toss in the wash and a few years ago purchased some from China on eBay and have been disappointed – they smell odd even before they are worn? That said, I'm giving the felt insoles from TheInsoleStore an initial try. They are soft on the foot "initially" but do tend to pack-down as they are worn. We'll see how they do through the summer.
Foam — Another pair of insoles made from foam are in my recently restored (cough, cough) Topsiders, and I already like the foam better than the felt/wool.
Black felt — I sent a pair of black felt (charcoal inside perhaps?) to my son who has  sweatier feet than me … so we'll see what he thinks. They have an interested bottom which stays in the shoe better than the simple felt insoles.
Supportive — I'm anxious to try a more support style insole in the Sperry's that I keep on the boat. They are more of a "water shoe" than the leather Topsiders, but are very thin soled and uncomfortable even walking to and from the boaters lounge on the dock … so I'll be interested to see in the new insoles help.
Leather — Finally I'm going to put a pair of the thin leather insoles in my Allen Edmonds leather dress shoes. The don't get nearly the abuse of a barefoot boat shoe, but since Tyler from TheInsoleStore.com sent me them to try, I will.

Some advice:
The first line of defense is keeping your leather shoes somewhat dry … which is not always easy around water; for that I use a waterproofer like beeswax.
Don't wear the same pair of leather shoes everyday. Rotate between a couple of pair and let them dry or air out before putting them on again.
Switch insoles. As mentioned previously, I'm a fan of the SofSole brand of insoles and have purchase a couple pair at Finishline. They are a bit more expensive but do hold up well.
Less effective are sprays and powders … although I did try using baking soda and putting them in the freezer (yes, in a ziplock bag).