Posted By RichC on August 28, 2015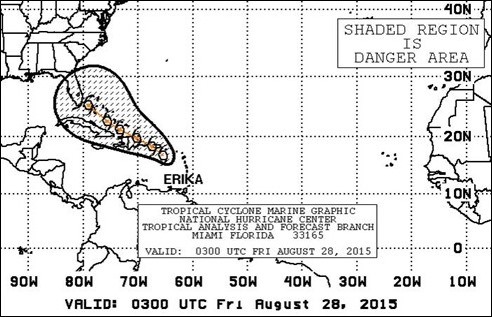 Most people watching tropical weather are focused on the eye of the storm … for good reason, but as a sail enthusiast, I tend to refer to the Mariner 1-2-3 rule when watching storm. This Danger Rule or Area applies the 34-knots of wind criteria as a way to keep boaters out of the worst weather. According to NOAA, 34 knots of wind was chosen because when winds reach this strength the sea state will change putting a vessel in more danger – see nhc.noaa.gov PDF.
The current path and projections (as of Friday 8/28 afternoon) from most models have Erika centered on the west coast of Florida and are no long projected the strength to strengthen to hurricane intensity. From past rainfall levels though, the tropical storm will dump tons of rain over the entire southern part of the state, but hopefully will refrain from excessive wind and surge. This may not be comforting for those directly in the path, but with preparation it if far more survivable than a category level hurricane.
.SYNOPSIS…TROPICAL STORM ERIKA NEAR 17.7N 69.4W 1008 MB AT 11 AM  MOVING W-NW OR 280 DEG AT 16 KT. MAXIMUM SUSTAINED WINDS 45 KT  GUSTS 55 KT. ERIKA WILL CONTINUE W-NW AND ACROSS HISPANIOLA THIS  AFTERNOON REACHING 19.3N 71.4W THIS EVENING…THEN WILL MOVE N OF  HISPANIOLA TO 20.8N 74.5W SAT MORNING AND CONTINUE N OF CUBA TO 22.3N  77.3W SAT EVENING…23.5N 79.2W SUN MORNING…THEN OVER SOUTH  FLORIDA NEAR 26.0N 81.5W BY MON MORNING. ONLY MODEST FLUCTUATIONS  IN THE STRENGTH OF ERIKA ARE CURRENTLY EXPECTED THROUGH SUN.