Posted By RichC on October 7, 2015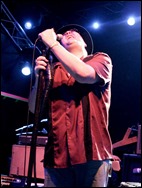 Usually when posting about a song I'm listening to or talking about music, I drift back about four decades … surprise … this time I'm only going back TWO decades! The jam band Blues Traveler recorded the top 40 song "Run-Around" in 1994 which was written by their frontman John Popper … and this pop-like upbeat tune still has me toe tapping whenever I hear it today … and it wasn't even from my era!
| | |
| --- | --- |
| | Run-Around (MP3) Blues Traveler – 1995 |
The group is still performing live today and they embrace the non-corporate structure around their music and shows.
Blues Traveler allows and encourages fans to record and trade live performances, provided that no money changes hands and no profit is made. The band has also given permission for live fan-made recordings to be hosted on websites such as Live Music Archive and eTree.org. Recordings available there span from 1986 through the present day.

On more recent tours, they sell recordings of that very night's performance. Attendees can pre-purchase a copy of the show until 30 minutes into the performance and then pick up the CD after the show.