Posted By RichC on November 12, 2015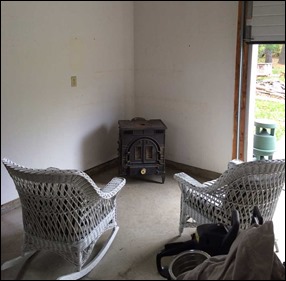 Unfortunately distraction is way too normal for me … and while in the middle of cleaning out the garage/ workshop, I started working on a "man-corner" that I planned well before the term "man cave." The initial goal was to clean up my variety of "junk" after finalizing Brenda's mom and dad's farmhouse … and now having to do the same for my dad's stuff. It is wrong to leave so much work for my kids – there will be plenty anyway even if I purge! 
One of the two stoves we heated our previous NE Ohio home in Hudson with has been stored in the garage for years with the idea of installing it for both heat and ambiance in my shop. The older I get, the less work I do so sitting around to read or talk is becoming more the norm … and a fire/stove will be just the ticket. I usually think "resale," but in this case it is something for "me." We'll see how it move ahead this winter.
I did mention my new splitter in a earlier post with all the extra wood this year and a new woodstove project will be a great place to burn it … besides the outdoor fireplace we adding in 2007.