Posted By RichC on December 16, 2015
When you begin to depend on prompt order fulfillment and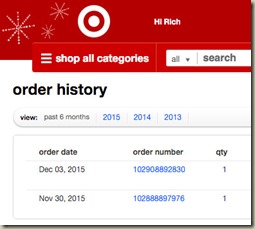 reasonable delivery times from online retail stores, it feels like we've gone back a decade or two?
On Cyber Monday, November 30th, I placed an order with Target thinking there was plenty of time before last minute Christmas ordering. I entered both my email address and text number so as to be updated on the status after reading the note that they had been overwhelmed with orders due to their 15% on everything sale.
A few days later without notification, no emails, phone calls or text messages, I logged in only to notice my order had been canceled. After a lengthy hold period on the phone on December 3rd, a very polite customer service representative apologized and reentered my order and adjusted the price according to the original "sale" price. I was satisfied that they handled poor execution with an appropriate response. My order was in the system and on its way … correct?
Well, a week later on December 10th I started to get concerned again. So I logged back on to the Target.com website to see that my order had shipped and was on it's way with the reputable FedEx as the carrier. Hm … time to track?
The tracking information was showing a "Weather delay" but listed it in Grove City, Ohio. I look out the windows and the weather was a very mild 60 degrees and dry in Ohio? I called FedEx to check my tracking number and entered my email into "their" system so not only Target should be updating me, but also FedEx. In the meantime, the FedEx agent mention that this was shipped using their SmartPost service and that the final delivery would be made by the U.S. Postal service … hm, sound like one more step in handling if you ask me? Nevertheless, I accept their answer and figured my package would soon be here.
On Monday afternoon, I received notification from FedEx that my package was delivered. Finally right … on December 14th my package was here … but not so fast. I stop at the office to pick up the order and no package was delivered.
Ugh … after yet another series of phone calls to:
Target – who said to call FedEx
FedEx – who show it handed to USPS
USPS – who show it delivered at 11:09 Monday
The local post office who shows the GPS logged and scanned
Calle the office – it's not there, but USPS says it didn't need to be signed for. Great … now what?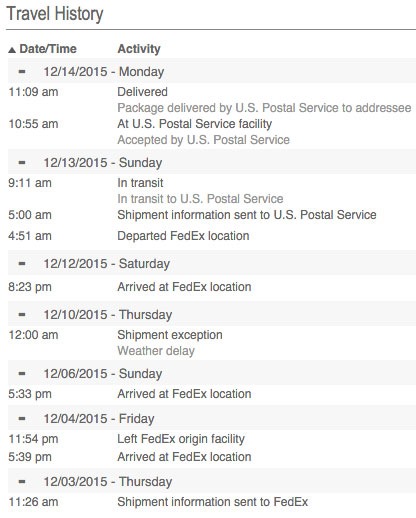 Follow up: Well the package did arrive and is available for pick-up. Whew, crisis over.