Posted By RichC on January 6, 2016

This past December, after hearing in July that one of my favorite applications would be givng new life as open source software, Open Live Writer was released. The parent application was retired by Microsoft a few year ago but has remained available. Unfortunately after my move to Windows 10 and issues with sFTP support, it first required a work-around and then unfortunately stopped working — most likely due to it being part of the "report back to Mom" Live Essentials?
Thankfully the committed group of programmers, users and Microsoft people continued to push to have the source code opened under MIT licensing and it is now being supported voluntarily. After losing LiveWriter, I installed Open Live Writer on my iMac Win10 Parallels install and am giving it a try (keeping the old Microsoft LiveWriter on my 2007 Gateway notebook and still have it on my even older Gateway that still runs in a pinch). 
This is the first post with it, so we'll see how it goes?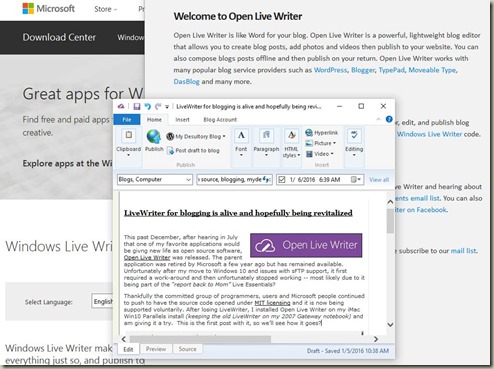 PS. I'm already missing the spelling check module but a big thanks Microsoft and to the volunteers working on this project.
Authors and Contributors

Below are some of the people who have helped to bring you Open Live Writer.