Posted By RichC on October 3, 2016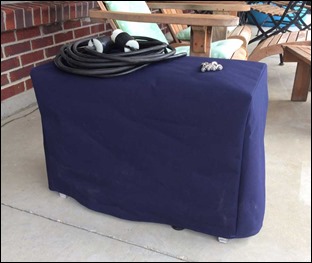 The generator "security cage" project for our sailboat Encore is ready to be installed. I'm not fond of making a few more holes in the deck, but it needs to be done.
The final touches (minus adding Velcro) were taken care of this past weekend. That included softening the aluminum edges, adding shrink tubing to the matched keyed brass/stainless Brinks locks (keeps them from rattling), making a longer cord, final fitting and sanding the seat/workbench/fish cleaning board … and sewing the Sunbrella cover … with Brenda's sewing machine!
To the casual eye, it may look as if the generator would slide out even when locked in place, but the handle of the Honda EU2000i fits up into the "seat section" and locks the generator to the deck. It can't be move out of the "open" cage without breaking something.
Positioning on the aft deck is something to ponder as well. I'm hoping it will fit on the starboard aft since I may add a wind generator in the future and it would be nice to be able to step on the generator cage in order to reach an additional 18" up the mast. I'm not sure exactly how it might all fit, but since the battery bank in starboard and the solar panel already has wire going into the starboard cockpit locker, that would make the most sense. Besides, the outboard motor hang on the port side rail and there is an access gate through the lifelines in the center. Of course a lot will have to do with where it will fit.