Posted By RichC on September 21, 2016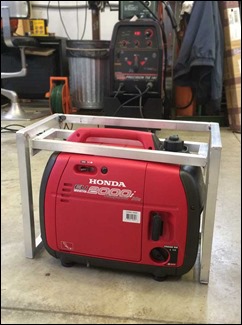 In a previous post, I sketched out a "Generator Cage," for the lack of a better term, for our sailboat Encore. The idea is to slip off a Sunbrella cover so we can use the Honda EU2000i Inverter Generator mentioned here on the aft deck when needing power at anchor to charge the batteries and power higher wattage devices. The aluminum cage permits the generator to be locked securely to the deck, but run with unimpeded airflow and moved to be stored below or onshore.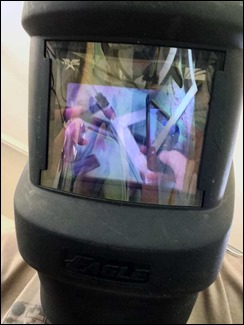 The "cage" will have two matched keyed locks on each side that holds the "eventual" lid, step, seat, worksurface on top. The cage as mentioned will be thru-bolted to the deck and be fitted with a cover for sun and weather protection. It has been sized slip in from the front with the lid removed but locked in place if the lid is in place.  The final fitting with nylon washers for leveling might change a few things, but I'm planning a foam insert under the lid to semi-secure the generator from wiggling around. (yet to be seen)
Above — a few expendable items I need to replace from Lincoln as the previous eBay ordered part from last year were incorrect. Of course I didn't check them until I tried to use them!
It is amazing how quick you lose TIG welding skills if you aren't doing it everyday … from setting up and tweaking the correct power and equipment settings to the coordination between foot pedal, right hand torch movement and left hand filler rod feeding … all behind a darken mask!