Posted By RichC on May 14, 2017
My take after reading the informative Volkswagen Diesel Scandal timeline article published in the New York Times a couple months ago was that the stricter diesel engine emission standards imposed by the U.S. EPA forced Volkswagen in a corner. With the prospect of losing business, they opted to "cheat" in order to continue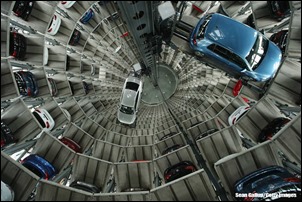 selling their very efficient TDI diesel cars in America.
For years I've shared my love for these superbly engineered VW TDIs and pointed out how much more efficient they are over similar gasoline powered internal combustion engine cars. Advocates of the TDI have long coveted the development of a hybrid version or better yet full electric with a smaller TDI diesel generating the power.
In a nutshell, the political bias and lobbying against "clean diesel" engines when it come to how the US measures pollutants drove engineers at Volkswagen to eventually cheat. They realized no matter how they modified VW's newest small diesel engine (within cost and maintenance constraints) for their smallest passengers cars, they were not going to be able to meet stricter American emission standards and retain the performance expected by VW customers. Perhaps that is not an acceptable excuse, but when artificial standards are set beyond what is cost effective and possible at the time, decisions were made in order to continue to sell TDIs in American (personally I wish the emission standards would have been more realistic so small diesel engine improvements could continue to progress and compete. Instead, choice is limited and a competitive engine option gone).
Below is the timeline article presented by Jack Ewing in his informative article:
Engineering a Deception: What Led to Volkswagen's Diesel Scandal – by: Jack Ewing – 03/16/2017

In September 2015, Volkswagen was accused of installing illegal software on cars to evade standards on diesel emissions.

Revelations of the deception led to the resignation of the company's chief executive and have hit the company's share price and profits.

Here is a timeline of how the scandal unfolded, according to a plea agreement by the carmaker in the United States and other court documents, as well as interviews with some of the participants.

The Planning

2006
Volkswagen wants to increase its embarrassingly low market share in the United States as part of a plan to become the biggest car company in the world. To do this, it resolves to use fuel-efficient diesel engines as a way to compete with Toyota. But engineers realize a newly developed diesel motor cannot meet stricter American emission standards.

Nov. 2006
At a contentious meeting at company headquarters in Wolfsburg, Germany, executives decide to install illegal software that can detect when an emissions test is taking place and crank up pollution controls, according to two people who saw a PowerPoint presentation laying out details of the plan and spoke on condition of anonymity. The rest of the time the controls are throttled back to protect engine components from wear and tear.

The Deception

Late 2008
Volkswagen begins a "clean diesel" marketing push in the United States, positioning its Golfs, Jettas, Beetles and other models as environmentally friendly alternatives to hybrids like the Toyota Prius.

Late 2011
Volkswagen begins selling Passat sedans made at a new, $1 billion factory in Chattanooga, Tenn. Though the cars are equipped with more advanced emissions technology, Volkswagen later admits in court documents that it continued to use cheating software to reduce the amount of customer-level maintenance required.

The Investigation

2013
A team from West Virginia University wins a $70,000 grant from the International Council on Clean Transportation to test whether diesel cars produce more emissions during normal driving than during laboratory tests. Road tests reveal that two Volkswagens in the study emit far more poisonous nitrogen oxides than allowed.

May 2014
After publication of the West Virginia study, a Volkswagen product-troubleshooter warns top managers in a memo that regulators may investigate whether the carmaker has been deploying an illegal "defeat device." The company confirms that the troubleshooter's memo was passed on to Martin Winterkorn, then Volkswagen's chief executive, but Volkswagen later says that he may not have read it.

Spring 2014
The California Air Resources Board, or C.A.R.B., opens an inquiry into the excess Volkswagen emissions uncovered by the West Virginia study. Volkswagen executives and engineers try to cover up the illegal software by feeding the regulators false and misleading data, the company later admits in its plea agreement.

Spring 2015
Volkswagen recalls diesel vehicles in the United States, telling regulators that a software update will fix the excess emissions. After tests show only a modest improvement, C.A.R.B. intensifies its inquiry.

Aug. 2015
As regulators ramp up the pressure, Volkswagen employees destroy thousands of potentially incriminating documents, the carmaker admits in court documents.

The Revelation

Sept. 3, 2015
Volkswagen confesses to the Environmental Protection Agency and C.A.R.B. that its diesel cars are equipped with defeat-device software that detects when emissions tests are taking place and cranks up pollution controls so that the cars will pass.

Sept. 19, 2015
The public learns of the fraud after the E.P.A. gives Volkswagen a formal notice of violation.

The Fallout

Sept. 23, 2015
Mr. Winterkorn resigns, but says he is not aware of any wrongdoing on his part. Volkswagen insists that the illegal software was the work of a small group of rogue engineers.

June 2016
Volkswagen agrees to a $14.7 billion settlement in the United States to deal with civil complaints and consumer lawsuits. The settlement includes compensation to owners and measures to atone for the cheating, such as installing networks of electric car charging stations.

Sept. 2016
A longtime Volkswagen engineer pleads guilty in the United States to conspiring to defraud regulators and car owners, the first criminal charges stemming from the American investigation into the automaker's emissions deception.

Jan. 2017
In a separate settlement with the United States Justice Department, Volkswagen agrees to plead guilty to conspiring to defraud the United States government and violate the Clean Air Act. The company will pay a $4.3 billion fine. The formal plea is submitted in March.

United States prosecutors separately indict six former Volkswagen executives, including an engineer arrested at Miami International Airport.

Volkswagen agrees to pay a further $1.3 billion to owners of Audi, Porsche and Volkswagen vehicles with three-liter motors not covered by the earlier settlement. The settlement brings the total cost to Volkswagen of the scandal in the United States to more than $21 billion.

The auto components maker Robert Bosch agrees to pay $327.5 million to vehicle owners as compensation for its role in supplying the cheating software, but it does not concede wrongdoing.

German prosecutors say that 37 people are suspected of taking part in the fraud, including Mr. Winterkorn.

March 2017
German prosecutors raid offices of Audi, Volkswagen's luxury car unit and a major profit center, in locations around Germany, escalating the investigation into the company's wrongdoing in the United States.

Matthias Müller, the Volkswagen chief executive, says at a news conference that the fraud was the work of lower-ranking employees and did not include any members of the current management board.

—

Fearing future broken links, this was archived above from NYT published site — READ