Posted By RichC on September 21, 2017
Tuned into Motley Fool's Industry Focus podcast this week talking about how drugmakers get patents and drug trials through the FDA. The Q & A segment was  helpful for those looking to understand the process and pitfalls before adding shares of these companies to their portfolios.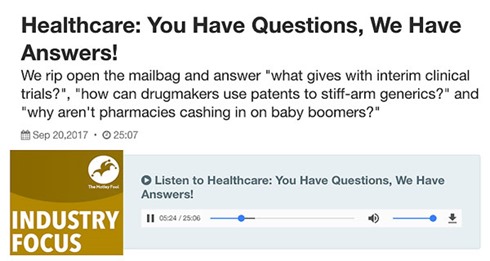 | | |
| --- | --- |
| | Motley Fool Industry Focus Podcast (mp3) | 9/20/2017 |
I enjoyed the education on drug trials, but I also knew they were going to answer my question regarding "the struggling and stagnant drugstore and pharmacy business" even with aging baby boomers with more prescriptions and living longer?