Posted By RichC on April 14, 2018
This past week has been a busy one for me. I was off to Florida for a few days to check on the condo in Delray Beach after our winter renter and to start the demolition of the kitchen. It is a project that is way past due and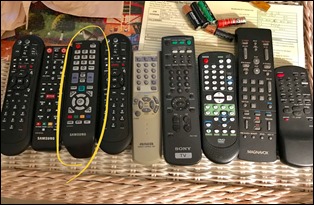 I'm not sure I know exactly what I've gotten myself into just yet?
The other priority was to move Encore to her new slip. I was fortunate have John and Cindy Parsons nearby on their boat Zola and available to lend me a hand with docking, It is not easy to singlehand a center cockpit sailboat when it comes to close quarters and docking. Thanks guys.
While at the condo, I noticed the Samsung TV was not filling the screen appropriately.  I picked up the "lone" remote by the TV and of course the cable box remote does not control those "Samsung settings" … then began the search for the appropriate remote (although it did give me a chance to go through a few drawers!) Low and behold, I found nice, yes NINE remotes at the condo for 2 TVs. Obviously a few of them wee for devices that are long gone — time to toss?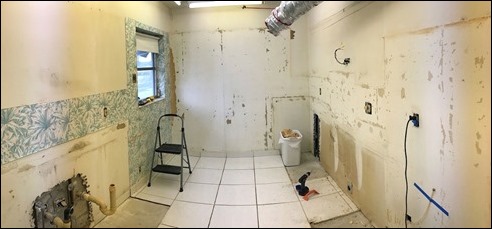 Beginning of "demo day" at the condo (iPhone pano of kitchen)
I was able to accomplish all of the demo of the kitchen, hauling away of the old appliances and busted up cabinets … AND started the new rewiring, blocking up of missing studs and new ceiling nailers for drywall. Not too bad for a guy working alone.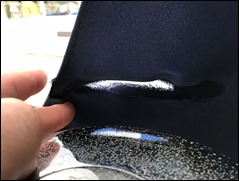 Back at the boat, I did a bit of cleaning and relaxed for the evening while storms passed before driving back home (photo above). While looking at things, I starting to notice age and the Florida sun weakening the Sunbrella dodger and bimini material so took a couple photos of areas that I "at least" need to patch … pronto.
Driving home, the 14-15 hours trip was uneventful … but the trip is getting longer each time I drive it. It is always good to see the Cincinnati skyline from Kentucky (photo below) and know I'm almost home and have a bed waiting for me.  It always feels good to be home, especially after a long drive.