Posted By RichC on September 23, 2018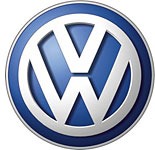 According to my very pleased Volkswagen driving daughter, she'll likely stay committed to the VW brand IF they continue to appreciate her as a customer. She was one of the first owners of the new 2018 Tiguan last year and has been very pleased with the first year vehicle. The performance, including regular 30+ mpg tanks of gas, has been enjoyable for her to drive and exactly what she wanted and expected in returning to Volkswagen after short but disappointing time with the Nissan Juke.
Last week she was notified of a "recall" on the panoramic sunroof, but rather than just sending out a postcard notice, Volkswagen USA sent an apology and card with $150 for future service. Now that's customer appreciation and one of the best way to retain a loyal VW customer. Well done VW!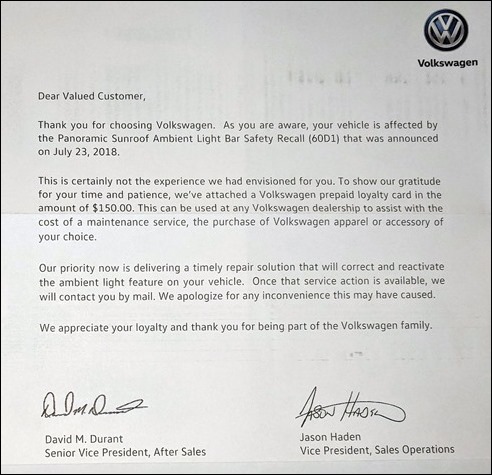 On a side note, I received a phone call from a old VW friend who services Volkswagens north of Columbus, Ohio … Jon Hamilton of Jon's Auto Care. He called to ask a couple of questions about modification that I made to Katelyn's 2001 Volkswagen TDI Jetta. It seems the guy who bought the car from her several years ago brought it to Jon to replace a blown turbo. It now has 197,000 miles and it made their day remembering the service they did on Katelyn's car. Even before the servicing days, he also remembered me bringing it to club GTGs in the early to mid-2000s for Rocketchip tuning and injector upgrades (I also have fond memories of Jon taking me for a run in his "hill climbing" racing RallyTDI Golf). From memory I was able to give him the appropriate coding and KermaTDI injectors we installed in Katelyn's 2001 TDI (the one she learned to drive on at age 16 … and took care of her all the way through high school, college, medical school and residency!) What great memories and THRIFT … I do miss the old CinciTDI and TDIClub days … and my daughters VW TDI.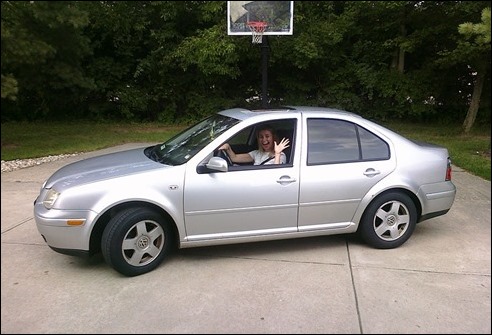 Katelyn in her "well loved" 2001 Volkswagen Jetta TDI in 2010