Posted By RichC on July 17, 2010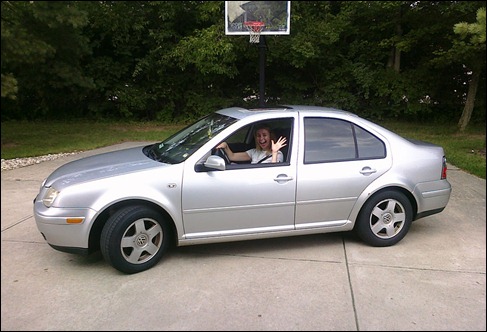 My daughter was home with her little diesel from NEOUCOM for a few days and I took the opportunity to replace her Dunlop Sport A2 tires with a set of Goodyear's (Eagle LS-2 – $408.00) hoping to get a little more even wear as she'll be spending more time on the road interviewing for her residency this year. In talking with the tire guy, he felt the cupping was due to the Dunlop's more aggressive tread design, lack of regular rotation and aging struts on a 2001 Volkswagen Jetta TDI. Of course he quoted the magic $1000 for that project … nope, not happening at this moment.
Since I've had a few readers email and post questions in the past about my thoughts on an accelerated medical school program, I thought I'd update Northeastern Ohio Universities Colleges of Medicine and Pharmacy's (NEOUCOM) accreditation status. All good.

I am pleased to inform you that The Higher Learning Commission (a Commission of the North Central Association of Colleges and Schools) has approved the extension of the Northeastern Ohio Universities Colleges of Medicine and Pharmacy's (NEOUCOM) accreditation to include the Master of Public Health degree, a Master of Science degree in integrated pharmaceutical medicine, and a Doctor of Philosophy degree in integrated pharmaceutical medicine. The Board of Trustees of the Higher Learning Commission validated this action on June 25, 2010, and the information is posted on its web site: http://www.ncahlc.org/decision-making-bodies/recent-actions.html. This decision follows the site visit to NEOUCOM in December 2009.

These degrees add to our existing M.D. and Pharm.D. offerings, and underscore NEOUCOM's transformation as one of fourteen public universities within the University System of Ohio.  [personal acknowledgments removed]

Jay Gershen
President
EDIT: Adding a short video clip from my Palm Pre … just because I can! 🙂