Posted By RichC on March 3, 2014
The snow has returned again to stretch out this already long and cold winter. March has always been one of those questionable months, but one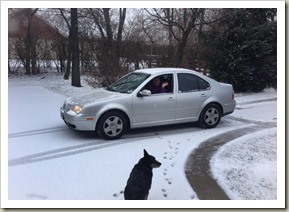 I generally associate with "spring" … so far not this year.
Katelyn and Drew were home for the weekend and we had a great time together as usual. Besides talking about moving (they move to Minneapolis this summer), we congratulated Katelyn on accepting a position with a practice in Wayzetta, MN. Very exciting.
Another topic that came up is that of selling her beloved 2001 Volkswagen Jetta TDI. As much as she loves the only car she has ever owned (learn to drive on it), the cold winters of Minneapolis and new job makes for an appropriate time for her to replace it (dad is no long within a fix-it drive away). Too bad in December 2013 she put a new "dealer installed ($$$)" alternator and battery in – someone else's gain!
 Links: Beyond a Billion, New Tires, Fuel economy, Bumped, Rust
I mentioned her car to family and on our local TDIClub's CinciTDI group list before going public and have already received a few inquiries … yes these older little diesels are still in demand. Below is a snippet of an email I sent to a friend who sent me an inquiry:
… the car isn't perfect as it has a few points of maintenance that I'm more than happy to point out to a CinciTDI member. The front fender has the normal Jetta cancer (rust) just above the wheel arch and the squeaky struts will bug you until they are serviced … bushings would help, but if I were keeping it, doing the struts would make the most sense. I've replaced the brakes/rotors a couple times, but assume pads are probably needed sometime this year. Our CinciTDI gurus have used her car for a few workshop videos and we've improved a couple items under the hood. There have been performance tweaks Rocketchip, Kerma 520 fuel injectors, glowplugs, aluminum CCV, intake manifold cleanings, MAF replacement and different CAT fuel filter improvements … although I think we're back to stock fuel filters again? The 2001 Jetta TDI is a 5-speed manual, has black leather seats, an after market upgraded radio with mp3, upgraded taillights, sunroof, winter floor mats and an aluminum Panzer skidplate underneath …

If interested, let me know.
Totally off subject, but here's a question regarding Amazon Prime memberships.
Do any of you "share the ordering" of gifts on one account in order to maintain free shipping? A family who all travel in order to be together over Christmas ordered from a shared Amazon Wish List and had all the gifts shipped "free" to one location where they all travel. Neat idea … especially when using a 30-day free membership.
🙂