Posted By RichC on July 18, 2019
I'm archiving the last few photos from my iPhone from this past weekend updates to Condo master bathroom. I finished what I was able to do without an extra set of hands and will do the rest the next time Brenda is in Florida with me (it is hard to set a toilet with a wax ring/mounting bolts all alone). With the plumbing finished and vanities set and caulked (posted yesterday) … the switches and plugs were next on the list. Previously I had moved the wall razor/hairdryer plug so as to be able to fit the planned corner mirrors (layout photo below/right for height and width above the faucet).
One of my favorite appliance items in this older condo is the bathroom heater/exhaust vent made by NuTone. Besides the superior quality of the "older" versions of the NuTone products (and Broan/NuTone products), which are repairable unlike newer plastic versions, there is a "name-sake history" with the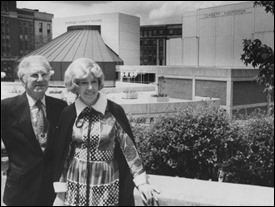 company's founder J. Ralph Corbett. NuTone was a hometown Cincinnati-based company, and once the "largest American producer of home electrical products (starting with a simple door chime).
Ralph and Patricia Corbett were perhaps the best known philanthropists in Cincinnati. With their Corbett Foundation, they benefited many local arts venues, including Music Hall, the University of Cincinnati-College Conservatory of Music, Riverbend Music Center and Northern Kentucky University.