Posted By RichC on May 10, 2019
Last year's Condo1718 update to the kitchen and guest bathroom was a bit more ambitious than this year, but so far it doesn't seem like it. Mentally I had my timetable worked out and figured the demolition wouldn't take all that much. Well really it didn't, but after finding a few things not where I wanted them inside the wall cavity, I had to changed my plans — and Brenda did not want to hear that I was modifying her already approved plans.
Besides removing the old cabinets and toilet, I realized that the old tiles could not be chipped off the floor easily. After pondering new bigger tools, I opted to level the floor and put the new tile on top of the old (besides it will eliminate a raised threshold). I used, new to me, a self-leveling concrete material and it turned out great.
Since we are going from a single sink vanity to two separate free standing sinks and vanities, I also needed to plumb in additional hot/cold copper and raise the old ones to the proper height.  Next was to "T" in a drain for both sinks … again higher than the original vanity so extra plumbing.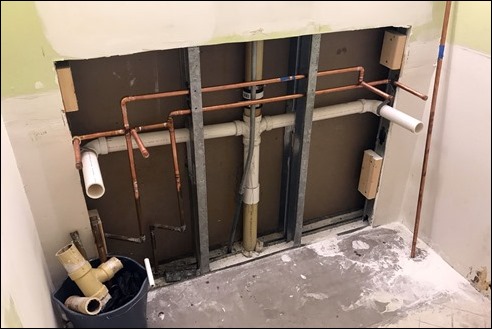 The change to my original plans was having to give up on the "in the wall" shelves spaced between the two sinks as a way to maximize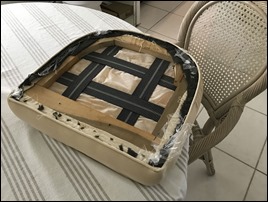 the space in a small bathroom. We will have to address this storage update later.
Eventually Brenda an I will also start our condo sewing projects and recovering the dining room chair seats are first on the list. So I double-checked to see how the seat come apart and are made. Something to think about (photo right).
The final debate is fitting a mirror. I would like small "no frame" corner mirrors (with small medicine cabinets) above each corner vanity so it is easy to shave, etc. Brenda has her heart set on some kind of mosaic tile framed mirror. Hm … which way should we go? 
On a side note, while I was in Florida, I also installed a new center hatch that was repaired by Select Plastics aboard Encore and was able to check out the new pool at the marina that I posted on a few months ago. (oh … and the Love Bugs are out)