Posted By RichC on September 30, 2019
One has to appreciate just how easy it is to get a wide selection of music nowadays, whether it is Pandora, Spotify,
SiriusXM, Apple, Amazon or Google Music.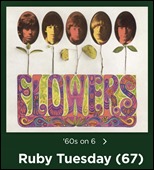 All stream great content and wide selections … not to mention the 1000s of streaming radio services. It it a huge change from the era of bootleg tapes, CDs and MP3s just a couple decades ago. Hopefully musicians have figured out a way to make it profitable?
Today's Music Monday is a step back further than my music listening started … 1967 with The Rolling Stones and Ruby Tuesday (mono). They have been mentioned once before from that era, but hearing them earlier this month on my iPhone SiriusXM app, inspired me to include them again. I hate to think that they will soon disappear from the music scene, but nothing lasts forever. 
| | |
| --- | --- |
| | Ruby Tuesday – The Rolling Stones | 1967 |