Posted By RichC on June 14, 2022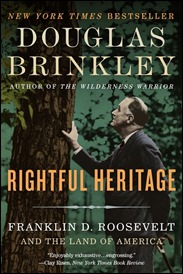 Although I once enjoyed reading biographical and history oriented books by Douglas Brinkley, as well as enjoyed interviews with him on TV, I've recently noticed a bit more political partisanship in his commentary and his appearances.
To be fair, I wanted to give his writings another shot and try to remain open-minded. The book "Rightful Heritage" is about an icon of the political left, Franklin D. Roosevelt, so I suspect the subject matter will be more aligned with his currently ideology … but I could be wrong.
I've yet to start the ebook downloaded to my Glose reader so will look forward to starting it as soon as I finish the audiobook, "Land of Big Numbers." Perhaps I should have read "The Wilderness Warrior" about a "distant cousin" Theodore Roosevelt first?
A brief synopsis online mention that both men were environmental leaders who desired to protect our public lands, scenic roadways and national parks.
Rightful Heritage is an epic chronicle that is both an irresistible portrait of FDR's unrivaled passion and drive, and an indispensable analysis that skillfully illuminates the tension between business and nature—exploiting our natural resources and conserving them. Within the narrative are brilliant capsule biographies of such environmental warriors as Eleanor Roosevelt, Harold Ickes, and Rosalie Edge. Rightful Heritage is essential reading for everyone seeking to preserve our treasured landscapes as an American birthright.