Posted By RichC on September 26, 2019
For those who follow or check on MyDesultoryBlog.com regularly, you know my daily musings are split between posts on a variety of newsy and topical interest items … and personal goings-on and project updates. This week has been pretty much all personal with a recent trip to check on Encore and work on Condo1718 updates.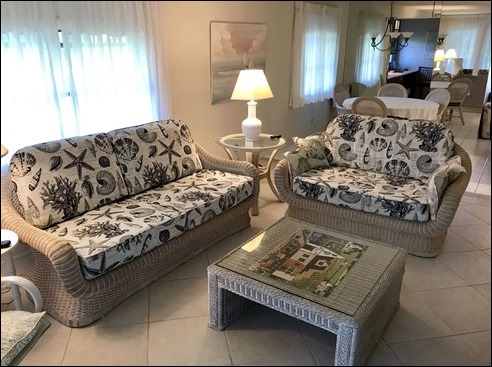 Besides the mounting of mirrors (before Brenda works on her mosaic tile), I pressed on with the cutting new cushions and working the new upholstery for our wicker couch and loveseat. It was a substantial amount of work, and dollar investment, and would have been less expensive (when calculating my hours) to have purchased new furniture. Besides the pride of "doing" this project, upholstery is probably one of those jobs that should be outsourced to experienced professionals. I'm not sure what they charge nowadays, but they are probably worth whatever they charge!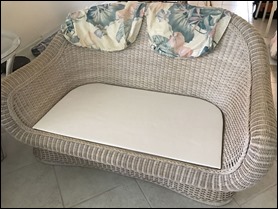 That said, I'm pleased with the new upholstery … even though I still am planning to add a layer of 1 inch low density foam under the batting on the seat cushions to fill out a few wrinkles and give a little more poof to the cushions.
Final note, I added a heavy cotton duck wrap to the plywood base that I added years ago when the webbing degraded and failed. Hopefully the smoother fabric to fabric surface will give longer wearablility to the Olifin fiber upholstery fabric that we picked out.