Posted By RichC on October 7, 2019
While listening to SiriusXM last week, I heard Aerosmith and Sweet Emotion that triggered high school memories for me (and another 1970 song from Music Monday). I was never an Aerosmith fan or listener of hard rock and roll music,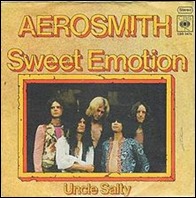 but it was the music of many of my peers and like most transplanted high school kids, I listened to fit into a group.
One of my early high school friends, Chris Carr, was also a photographer that I worked with on the school yearbook, paper and local newspaper. So when "cruising" with him on a Friday or Saturday night in his older 1960-something Nova, we would pop the 8-track into his car stereo – more often than not, it was Aerosmith.
| | |
| --- | --- |
| |   Aerosmith – Sweet Emotion | 1975 |
"Sweet Emotion" was released as a single on May 19, 1975, and peaked at #36 on the Billboard Hot 100, becoming the band's breakthrough single and their first Top 40 hit.he day it hit #36 on the U.S. chart, July 19, 1975, Aerosmith was booked at a gig in New York City's Central Park, called the Schaefer Music Festival. The song and consequently the album that went into the Top 10 were so successful that the band decided to ride the heels of success and re-release one of their first singles, the power ballad "Dream On", which had originally charted at #59 in 1973. The re-released version went on to hit #6, the highest chart performance in the 1970s for the band.