Posted By RichC on August 7, 2021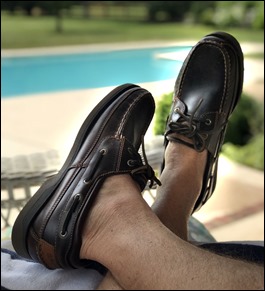 Besides making one of those "senior moment" gaffes by switching my mini split HVAC unit accidentally from AC to "HEAT" (I was roasting in my office), I bought a new pair of shoes after being disappointed in the cheaply made pair that I bought last year. Those that read this blog know that I've been nearly a lifetime wearer of Sperry branded boat shoes and that I have raved many times about the shoes and how I've made favorite pairs last far longer that the manufacturer would want.
This time around I opted for the Mako Canoe Moc Boat Shoe that is less sailing oriented and a bit more day to day comfortable (which is what I wear mine for 95% of the time anyway). So as usual, I'll do my best to break them in gently and wear them for casual outings at first .. before relinquishing them to day to day repaired-too-many-times "beater" shoes. I've yet to make a decision on insoles since they are super comfortable right out of the box.
As I looked at my old worn boat shoes, I contemplated if this pair would last for the rest of my life – YIKES! Perhaps it was reading about the recent passing of organized labor leader Richard Trumka, but in any case, this the first time I've thought about something other than tools that may last the rest of my life? Hm … maybe my kids will bury or cremate me while I'm wearing them? (I'm not "preoccupied" with it, but need to give cremation a bit more thought) MORBID, eh?

mor·bid  -  /ˈmôrbəd/

characterized by or appealing to an abnormal and unhealthy interest in disturbing and unpleasant subjects, especially death and disease.