Posted By RichC on September 26, 2020
If you have ever used a heavy portable sewing machine, you know what a pain it is to haul it out of storage and set it up to make a simple repair. I don't know how many times I've grumbled when Brenda wants me to set it on my workbench … or worse, haul it upstairs … so she can make a quick and easy stitch or two. Yes, it is nice to have something portable that can be moved around (repaired the pool cover in the backyard or for sailboat repairs in Florida), but now that our Sailrite LSZ-1 has an extra 7 lbs in the case due to the add-on Monster Wheel, it is an even heavier portable (and takes a bit of set-up each time). We have used it both with the bigger flywheel and without it on a couple of projects, but I am not convinced the extra weight and $125 is worth it?
Opinion aside … I've been thinking about creating a rolling sewing cart to house the Sailrite sewing machine and extra gear I've accumulated underneath and all in one place. The idea was not to lose the portability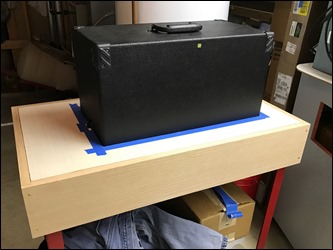 or actually remove it from the protective carrying case … but to have it "at the ready" whenever a project or repair arose. I didn't want the table to be too large, but definitely wanted a little more working surface.
The plan is to utilize an existing cart that was in my dad's workshop and held is grinder. The red metal cart was sturdy and has locking caster wheels and is about the right height with my normal workshop stool. The plan was to make an oak (had the wood) surround and create a drop in plywood top after cutting out and filing to fit the shape of the Sailrite case. I even nibbled around the latches so that the top of the case can be used to protect the sewing machine and keep the dust out.
The final piece was to use the hinged shelf supports that I bought for the laundry room. I "was" going to put a folding shelf/table on the wall to be used as some work surface area – we decided it wasn't necessary and would end up just being an additional cluttered space. So far, so good and haven't spent a dime, unlike tomorrow's post.