Posted By RichC on October 8, 2021
Although my interest in productivity in running a business has waned a bit now that I'm no longer aggressively working or growing a small business,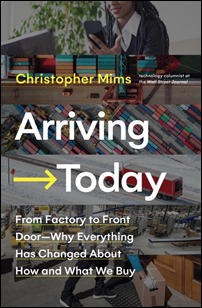 I still have curiosity when it comes to the direction things are going.
I've read Christopher Mims "tech writing" for a few years now as he contributes regularly to the Wall Street Journal, so seeing his book "Arriving Today" listed as an October 2021 Glose digital copy piqued my interest (the book was release in late September).
The prologue immediately caught my interest describing the book as a "skeleton key"  that will "help unlock insights into the past, present and future of automation and work." I'd like to think in my small way, this was something I was able to do when starting Consolidated Printing and Publishing Co? Besides following the tried and true traditional methods of commercial sheet-fed offset printing companies, I was early into using computers to automate and digitize as much as possible. From contracting to scan file cabinets full of mostly legal forms for rubber companies in Akron, Ohio (our lower cost non-union labor vs internal higher cost union labor) to using my own programing in setting crossword puzzles (great clue below) and grids for a supplier to the TV Guide (history of).   

Anyway, back to the the Harper Collins book "Arriving Today" and what it is about:
We are at a tipping point in retail history. While consumers are profiting from the convenience of instant gratification, rapidly advancing technologies are transforming the way goods are transported and displacing workers in ways never before seen.

In Arriving Today, Christopher Mims goes deep, far, and wide to uncover how a single product, from creation to delivery, weaves its way from a factory on the other side of the world to our doorstep. He analyzes the evolving technologies and management strategies necessary to keep the product moving to fulfill consumers' demand for "arriving today" gratification. Mims reveals a world where the only thing moving faster than goods in an Amazon warehouse is the rate at which an entire industry is being gutted and rebuilt by innovation and mass shifts in human labor practices. He goes behind the scenes to uncover the paradoxes in this shift—into the world's busiest port, the cabin of an 18-wheeler, and Amazon's automated warehouses—to explore how the promise of "arriving today" is fulfilled through a balletic dance between humans and machines.

The scope of such large-scale innovation and expended energy is equal parts inspiring, enlightening, and horrifying. As he offers a glimpse of our future, Mims asks us to consider the system's vulnerability and its resilience, and who shoulders the burden, as we hurtle toward a fully automated system—and what it will mean when we are there.