Posted By RichC on April 1, 2022
These illustrations make the rounds by email and social networking every so often and do so because they are interesting to naturally inquisitive humans … and in my case make for a blogworthy Friday Filler and "fool your mind" on April Fools' Day post.
This is one that cognitive psychology refers to as the Negative Afterimage: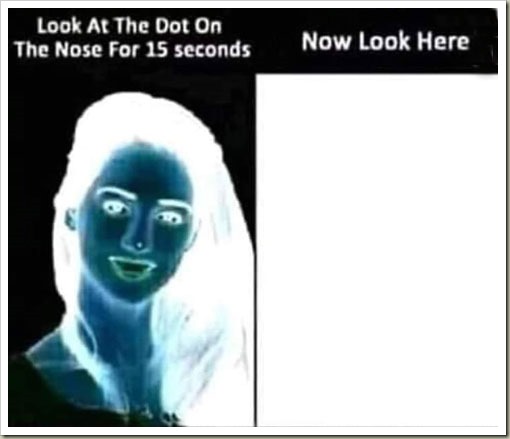 What do you see? If you've followed the directions correctly, you should see an image of a woman in full-color. If you are having trouble seeing the effect, try staring at the negative image a bit longer or adjusting how far you are sitting from your computer monitor.

What you are experiencing is known as a negative afterimage. This happens when the photoreceptors, primarily the cone cells, in your eyes become overstimulated and fatigued causing them to lose sensitivity. In normal everyday life, you don't notice this because tiny movements of your eyes keep the cone cells located at the back of your eyes from becoming overstimulated.
See VeryWellMind.com for further explanation.