Posted By RichC on December 17, 2022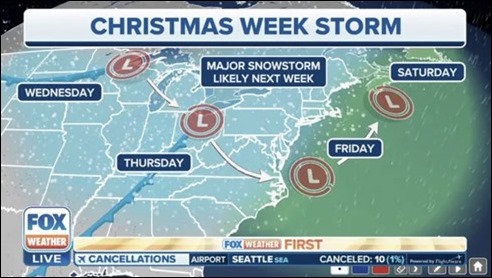 We have had a relatively mild, although gloomy, couple of weeks this December 2022 so far … unlike it was in 2010. BUT … this could change by the end of next week as the forecast is for a winter snowstorm to hit much of the eastern half of the U.S. According to forecasting yesterday, a cold front will be colliding with a lot of moisture coming up from the Gulf of Mexico … which means snow. Better get out your boots, warm coat and hat out if you are planning to go outside or travel. It could be a White Christmas.
For our Christmas planning, Taylor did give me a hand in getting the hefty tree into the house and up – thanks Taylor! The first photo is just after we sardined it through the door and set it up … and the second (decorated, but no skirt) is a bit later in the week after it had settled its branches a bit. It took a few more strings of lights this year, and ALL the ornaments we had, including some pretty humble ones! Merry Christmas.