Posted By RichC on September 10, 2006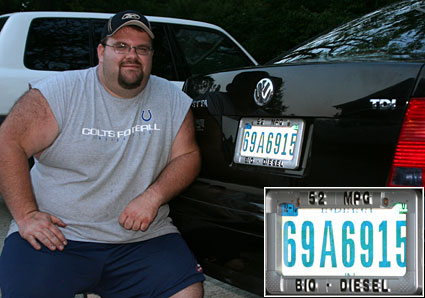 Dan Ball brought both his Volkswagen TDI (above) and his brother's TDI to the garage today — his brother's had a power and 'smoking problem.' With my uncanny powers of observation, noticing he brought it on a trailer, I recognized that it was in need of some TLC.
😉
Thankfully the CinciTDI mechanical gurus had already assembled, consulted and prepped to make a "How-To" video clip (not available yet) for the CinciTDI website: Replacing a Jetta A4 TDI Turbocharger. Dan and his brother Dustin had already purchased a VNT15 turbocharger from World Impex and installation kit from TDIParts and were prepared lend a hand in documenting this 6 hour procedure.
In preparation, we debated as to exactly what to include in the video procedure since half of the procedure is a duplication of our 2006 club fundraiser: Intake Manifold Cleaning DVD. The brother's had also removed a few parts and cleaned the intercooler which was as expected … full of oil. The conclusion was that we'll not show the removal of the intake manifold and recommend that people see the Intake Manifold DVD or TDIClub PDF files for those procedures.
After the installation Dan and his brother started the car to an unwelcomed cloud of smoke from the excess of oil left in the exhaust pipes which was expected. This along with about a pint of oil dribbling on the cardboard that we wisely put under the tailpipe prevented most of the oil from hitting the driveway. The guys were happy and heading for home at about 9PM after thanking Bruce Bowling and Tim Hunter who once again go over and above in volunteering their time and energy to members of our group. (after realizing where Dan works —Reebok — we should have hit him up for Bengals T-shirts! BTW, here's summary of Sunday's 23 -10 win against the Kansas City Chiefs)
🙂