Posted By RichC on October 19, 2006
She was determined to be a figure skater and a concert pianist -– high ambitions for a young black girl from Birmingham, Alabama,


in the 1960s. In a way, her destiny was set for her when her parents named her after an Italian musical term that means to play "with sweetness." "Sweetness" might have been her name, but do not make the mistake of assuming that she was fragile. She became quite used to adversity. As a young lady she was not allowed to use the dressing room of a department store – that was reserved for whites only. Her family attempted to eat at a restaurant after the Civil Rights Act was passed in 1964. They were greeted with silence and stares. But Sweetness did not become bitter. Instead she resolved to make a difference in the world. And make a difference she did.
The girl named Sweetness had great parents, but she credits her faith as the greatest source of her strength. The apostle Paul wrote that God "works of everything in conformity with the purpose of his will, in order that we, who were the first to hope in Christ, might be for the praise of his glory." (Ephesians 1:11, 12). Because of this hope, the bright young lady form Alabama approached each setback, each insult, and each failure as part of the wonderful script that God was writing with her. Each day she would start looking again for new opportunities. Sadly, figure skating never worked out. Becoming a concert pianist didn't pan out either. But that's because God had something else in mind for her. It's fortunate for all of us that he did.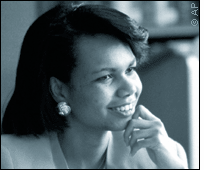 On September 11, 2001, a voice on the telephone informed the president that the United States was under attack. It was the voice of the women some consider the most powerful woman in America. This woman then immediately implemented emergency procedures to protect the president and his staff. She also assured the leaders of the world that the United States government was still up and running. It was the voice of the young lady form Alabama whose name is Italian means to play "with sweetness," or Condoleezza. Yes, that woman was Condoleezza Rice, our nation's National Security Advisor.
The disappointments, persecutions, and disadvantages in her life ultimately helped Condoleezza Rice find her way. The apostle Paul wrote that we "rejoice in our sufferings, because we know that suffering produces perseverance; perseverance, character; and character hope" (Romans 5:3, 4). Maybe life isn't turning out the way you wanted. But Condoleezza Rice would probably join the apostle Paul and plenty of others in saying "Don't worry. You're in training for something better."

– Eric Snyder for Rick Rusaw –

Generally, don't republish an entire story, especially when I don't know exactly where it came from, but my daughter sent this to me thinking I would enjoy it. I did and thought others might too.