Posted By RichC on January 7, 2007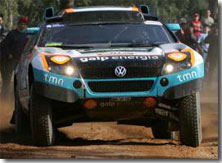 Volkswagen has started strong in the Dakar Rally this year as after the first stage they have capture the top 5 spots of 187 cars in the race. Portuguese car racer Carlos Sousa was first in this grueling off-road event which travels some 5,000 miles through Europe and Africa. Sousa time for the first stage was 1 hour, 20 minutes, 38 seconds, which was followed by four more VeeDubs. So far they have made good on they goal of taking spots away from Mitsubishi cars capturing first through fifth finishes. Stage one covered 288 miles, with 73 miles timed.
The NASCAR driver Robby Gordon finished 13th in stage one; he was the first American to win a Dakar Rally stage back in 2005 and looks to keep the pressure on. The race includes cars, trucks, motorcycles and all-terrain vehcles which consists of 525 teams from 42 countries. There are 250 motorcycles, 187 cars and 88 trucks competing this year.
Sunday's stage two will be from Portimao to Malaga in Spain and cover 339 miles then the race continues into Africa, entering Morocco, Mauritania, Mali and the Senegal capital of Dakar, where the competitors are to finish Jan. 20.