Posted By RichC on February 5, 2007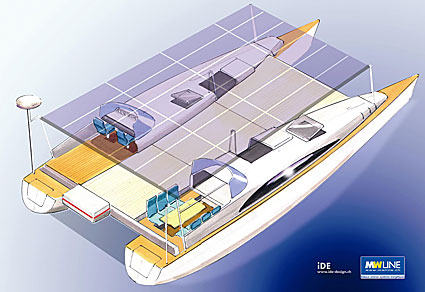 Although I'm a wind power guy and prefer sailing, I'm impressed with an Ocean crossing solar powered Swiss-made catamaran called the Sun21. The unique boat became the first solar-powered boat to cross the Atlantic and was able to log 107 nautical miles per day. The 41 foot catamaran sailed a similar route to that of Christopher Columbus leaving Chipiona, Spain and concluding in the Caribbean island of Martinique.
The boat is equipped with 650 square feet of solar panels successfully electrically motored its way 2700 nautical miles in 30 days non-stop across the Atlantic Ocean. According to Beat von Scarpatetti, "There's hardly any vibration, the solar panels provide us with shade and, unlike a sailing boat, we make good headway even when there's no wind." Sun21 will next head to New York by several Caribbean islands, Miami Florida and eventually to Manhattan in May.