Posted By RichC on February 26, 2007


As the momentum builds toward the Department of Energy's Solar Decathlon 2007, teams from twenty universities are 'gearing' up (poor engineering humor) towards the goal of designing, building, and operating a highly energy-efficient, completely solar-powered house. The judging will take place on the National Mall in Washington, D.C., October 3 – 22, 2007 and be open to the public, October 12 – 20, 2007.
This year's contest will be the third since 2002 and be judged on ten criteria: Architecture — 200 points, Engineering — 150 points, Market Viability — 150 points, Communications — 100 points, Comfort Zone — 100 points, Appliances — 100 points, Hot Water — 100 points, Lighting — 100 points, Energy Balance — 100 points, Getting Around — 100 points. Besides the 20 individual university sites reporting on team projects, the U.S. Department of Energy's Energy Efficiency and Renewable Energy will have media information available as well. (see announcement)
The Solar Decathlon challenges tomorrow's engineers, architects, researchers the opportunity to rethink our nation's energy use, and extends them the opportunity to show just how comfortably we could be "living under the sun." The the small solar homes that are being developed are powerful, comfortable, and stylish, wasting neither space nor energy. Eventually more and more homes will take advantage of heat and light from the sun as well as more efficiency in cooling. The sponsors of the 2007 Solar Decathlon offer participants hands on use of the newest products and technologies that will bring our nation improvements in homes as well as the use of natural resources and impact on our environment.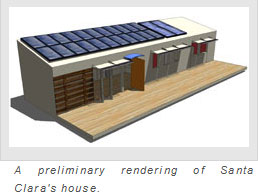 My bias support goes out to the team from Santa Clara University where I have an 'inside' line on how things are progressing. This week they are 'ground breaking' — the design phase has been committed to drawings and construction now begins. I wish them well and will attempt to learn from their efforts. (keep me posted N.)